Seven New Members Enshrined
Concord, NH
Master of Ceremonies, Bob Norton, and the New Hampshire Legends of Hockey Board of Directors inducted seven new members into the New Hampshire Hockey Hall of Fame class of 2017, in front of a crowd of more than 260 family members, friends, dignitaries and guests.
The Hall of Fame Induction Ceremony & Luncheon was presented by Cusa Consulting, LLC of Hampton, NH and was held on October 22, 2017 at the Grappone Conference Center in Concord.
It marked the NH Legends' sixteenth year hosting the event and the Legends also paid tribute to Men's and Women's team from New England College.
About The Legends of New Hampshire Hockey
The Legends is a New Hampshire non-profit, 501(C)(3) organization dedicated to preserving New Hampshire ice hockey history, maintaining the state's Hockey Hall of Fame, and promoting the sport to New Hampshire's youth. Our Hall of Fame Induction event honors New Hampshire's hockey elite — men and women who have made significant contributions in New Hampshire as players, coaches, officials, builders, or media representatives.
Inducted into the 2017 Hall of Fame Class were five players: The late Maurice Couture, Jim Griffin, Roger Letourneau, the late Wayne Pecknold and the late George Thurston. Howell P. Campbell is being inducted posthumously as a coach; and Clarence T. Lessard is being inducted posthumously as a builder. To view the entire induction program click here.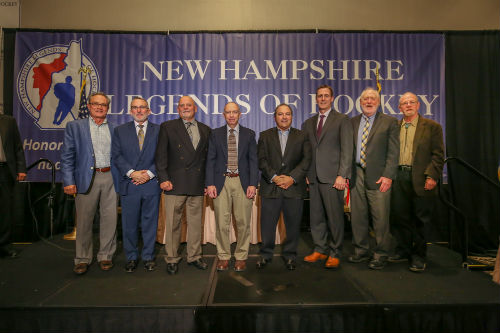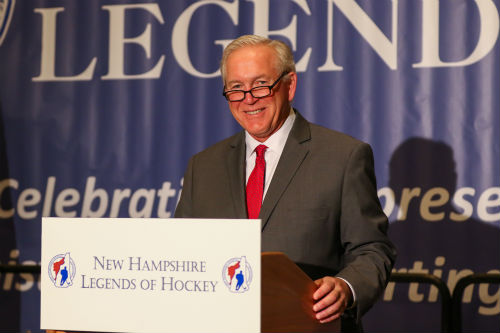 John Normand, (shown Above) current President of the Legends' Board of Directors, welcomed the large audience and thanked them for supporting the 2017 Hall of Fame inductees and the New England College men's and women's hockey programs. Normand offered special thanks to Cusa Consulting (Mark Thurston) as the Presenting Sponsor; St. Paul's School (Mike Hirschfeld) as the Luncheon Sponsor; NH Amateur Hockey Association (Paul Comeau) as the Title Sponsor and New Hampshire Distributors (Chris Brown) as the Social Hour Sponsor.
Normand also thanked the 25 other sponsors who helped make the Hall of Fame ceremony possible through their Gold, Silver, and Bronze-level sponsorships. Those sponsors are:
Gold Sponsors: Banks Chevrolet-Cadillac, Inc; Capital Sporting Goods; Black Ice Pond Hockey Association; Christian Party Rental; Club National; Fay's Boat Yard; Speedy Printing & Copying and Vachon Clukay & Company PC.
Silver Sponsors: Berlin City Auto Group; Bogacz Photography/Digital Media; Capital City Paving; Di Niro Construction; Milestone Engineering & Construction; Morgan Storage; Northway Bank; PretiFlaherty; Ray's Electric, Inc. Rene LeClerc Insurance Agency and Triplet Computers.
Bronze Sponsors: Beauchamp Estate Services; Central Paper Products Co.; EVR Advertising; Granite State Glass; L.A. Brochu, Inc. and Town and Country Motor Inn.
State Senator Lou D'Alesandro, longtime Legends supporter and a former Legends Board member, delivered a letter from The Honorable Governor Chris Sununu, State Senate Resolutions and State of New Hampshire Citations honoring the Hall of Fame Class of 2017 and the New England College hockey teams.
More than 33 administrators, staff and former alumni of New England College were in attendance, including President Michele Perkins and 10 of the original team members from 1969-70 season. They were: Jake Mulligan; Jim Millar; John Millar; Mark Sullivan; Jay Jones; Joe Massakowski; Bill Whittemore; John Lineberry; Gerry Drypolcher and Coach Leo Callahan.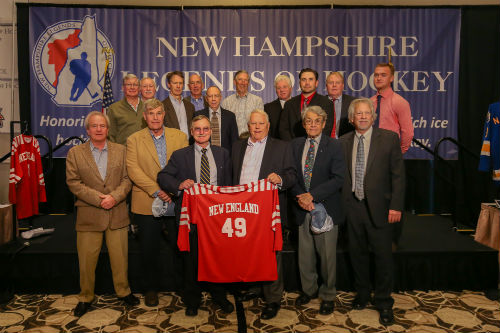 Shown above L to R: John Millar; Dean Sennett; Jim Millar; Jake Mulligan; Coach Leo Callahan and Jim Hayes. Back Row L to R: Bill Whittemore; Joe Massakowski; Dave Higgins; Rick Loh; Jim Griffin; Gerry Drypolcher, Red Gendron; Travis Banga; Head Coach Tom Carroll and Clayton Jardine. Missing from photo: Mark Sullivan; Jay Jones; John Lineberry; Michele Perkins; Marie Muhvic; Mark Peterson; Duncan Matthews; Gary Deroy; Wendy Hayes; Gary Deroy; Brian Stone; Bill Beaney; Marshall Irving; Dan Zapton; TJ Whitelaw; Scot Barry and Marty White
The jerseys shown above were auctioned at the ceremony. There are six jerseys still available and if you are interested in purchasing one, please email hayes743@comcast.net Jerseys can be adorned with a number of your choice and are $95.00 each. Shipping is not included.
Photographs of Induction Ceremony were taken by Matt Parker Photography and are posted on his website. Click here to view and or purchase photographs. If you have any questions you may contact Matt at mparker3011@gmail.com. To view and or purchase click here.
Concord Mayor, Jim Bouley, extended a welcome on behalf of the Capital City and briefly traced the history of ice hockey in the City of Concord, from the first hockey game played in 1883 at St. Paul's School to the more recent Black Ice Pond Hockey Championship at White Park. Bouley remarked that the Black Ice event will be held at Concord's White Park again this year in late January.
Key Note Speaker Red Gendron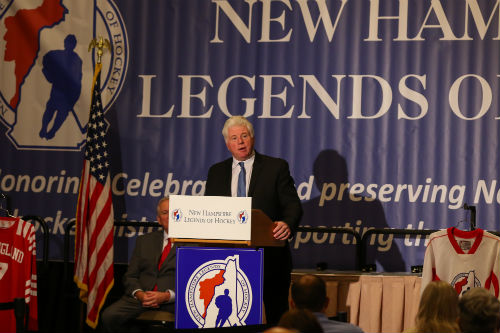 The Key Note Speaker was Red Gendron current Head Coach of the UMaine Black Bears. Gendron, a Berlin native, and twice had his name engraved on the Stanley Cup with the NJ Devils. Gendron is a New England College alum of 1979, Legends Hall of Fame Class of 2007, and is in his fifth season as head coach at the University of Maine.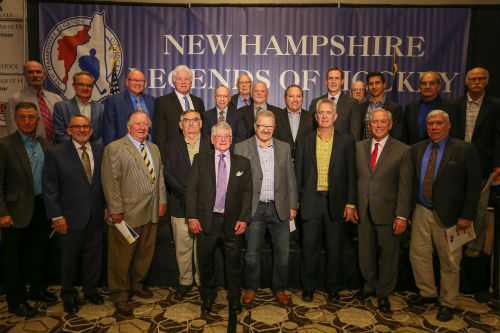 All Hall of Fame members in attendance: Front Row L to R: Mark Evans; Peter Champagne; Bob Norton, Gary Bishop; Dick Boucher; Leo Gould, Peter Maher; John Normand and Bruce Parker. Back Row L to R: Pierre Belanger; Bob Diefendorf; Ken Cail; Red Gendron; Jim Griffin; Merrill Fay; Roger Letourneau; Mark Thurston; Rand Pecknold; Pierre Lessard; Jeff Giuliano; Dick Roy and Ryan Brandt. Missing from photo: Steve Murphy; Brian Stone; Andre Prefontaine; Ken McKinnon; Roland Lavigne;
President John Normand announced the team that will be honored during the 2017 Hockey Hall of Fame Ceremony.
MRYHA (Manchester Regional Youth Hockey Association) will be honored at the 17th Hall of Fame Induction Ceremony which has a tentatively scheduled date of Sunday October 21, 2018.
John recognized all the Past-Presidents in attendance for their outstanding leadership and service. Shown below is Roland Olivier, John Normand, Dick Boucher, Tom Champagne and Roland Martin.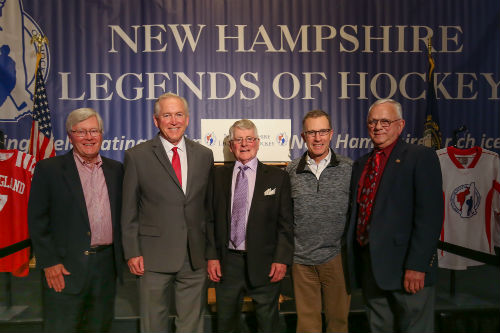 So again mark your calendar for the 17th Annual Induction Ceremony tentatively slated for next October 21st at the Grappone Conference Center in Concord. If you'd like to become a sponsor, please email hayes743@comcast.net or call Jim Hayes at 603-731-4168.
2018 Nomination with appropriate documentation can be submitted on-line beginning January 1 and continuing through the end of February.
Video of Induction Ceremony can be purchased by contacting Mark Johnson at MJohnson@JoyMark.com. A DVD set of the Induction Ceremony as well as Interviews may be purchased for $15.00 through JoyMark Photography and Video Production in Concord (www.JoyMark.com).