NHLH Inducts 12 New Members 2011
New Hampshire Legends of Hockey Inducts 12 new Members
Bob Norton and the NHLH BOD welcomes Class of 2010
A crowd of 320 friends, family and hockey aficionados filled the Convention Center at the Radisson Hotel in Manchester on Sunday December 5th as the New Hampshire Legends of Hockey held their 9th Annual Hall of Fame Induction Ceremony and Luncheon.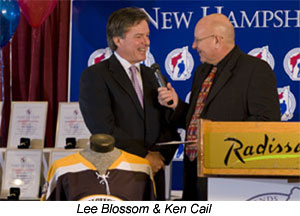 The Class of 2010 included:
Player Category:
Lee Blossom of Boston, MA;
Blossom played for Concord High and helped the Crimson Tide win their first state title in 1977. He ended that season as the State's top schoolboy scorer: 35G – 32A – 67P. He also, that school year, captained hockey, golf and baseball. Then at Boston College he captained the Eagles his senior season. He played in four Beanpot Tournament finals, winning the championship his senior year. For his career he amassed of 58G – 60A – 118P in 111 games and went on to play pro hockey in the ECHL and IHL, helping Fort Wayne to the Turner Cup finals in 1986. During his three year professional career, he scored 159G – 144A – 303P in 212 games.
Walt Fournier of Berlin, NH;
In high school, the 5'4″ Fournier played for both Berlin High and the Berlin Maroons. Then he was off to the war as askilled B-17 navigator, flying seven bombing missions. After his return he was regularly on the ice between 1946 and 1951 again doing double duty. This time, his other team was the University of New Hampshire. As a UNH freshman, he was captain. As a senior, he was varsity captain of the Wildcats. The Maroons won three New England AHA titles in 1948 – 1949 and 1950.
Norman "Fat" Pinette of Ormond, FL;
A standout goaltender, "Fat" Pinette also played for both Berlin High and the Maroons. By the time he was a senior – that being the 1939-40 season – he enjoyed a high reputation that was enhanced by his four shutouts and the team's 11 wins. Berlin went on to win the 1940 state hockey title. (Note: The title is considered unofficial due to the fact that the New Hampshire Interscholastic Athletic Association was not formed until after the 1945-46 season. Also that season, "Fat" added All State Goalie to his personal credentials Around a WWII stint in the Navy, he backstopped the Maroons to three New England AHA titles in 1948 – 1949 and 1950.
Matt Robbins of Merrimack, NH;
A four-time forward All-State selection a Nashua High, he integral part in the '85 hockey championship, the very first for Nashua and then again won the title in 1986. Plus, there was a 33-game win streak fashioned over three seasons. Robbins went on to play briefly at UMASS-Lowell, left to take advantage of his draft opportunity and he turned pro. He played six professional seasons of hockey mainly for the Charlotte Checkers of the ECHL where he played 314 games, scoring 137 goals and 269 assists.
Jacque Rodrigue of Nashua, NH;
In his four-year tenure at Nashua High, the Panthers had a regular-season record of 56 wins-10 losses-2 ties; and in 11 state tournament games the team posted an 8-3 record. He was named player of the year in 1989. He would go on to have an outstanding career at the University of Maine. The defenseman played 59 games in three college seasons, scoring 13 goals and 35 assists. He graduated in 1995 and moved on to the professional ranks playing nine seasons as a pro. Rodrigue played with 10 teams in eight leagues around the country, over 521 professional games, including 30 playoff tilts, Jack's scoring totals were 73 goals and 283 assists.
Eric Royal of Hampton, NH;
In 1990 Spaulding went to double overtime where they pulled off a 4-3 upset, marking their first state hockey crown. During those four games, Eric, a gifted center, worked some heavy scoring magic: 7 goals in one game; 9 points in one game; 13 goals in the tourney; 21 points in the tourney – all acclaimed then as records. As of today, Eric remains Spaulding High's all-time career scorer: 90 goals-106 assists-196 points; plus he still owns two season records: most goals-41; most points-78. He went on to the University of New Hampshire where he played 101 games over four seasons with career totals of 35 goals-61 assists-96 points. He graduated in 1995 and attended the Edmonton Oilers rookie training camp. Ultimately, he played four years in the East Coast Hockey and finished his pro career with one season in Newcastle, England.
Daniel K. Stuckey, II; (Died in 1993 at age 73)
He grew up in Exeter, NH, on the campus of Phillips Exeter Academy, where he excelled both academically and athletically. He earned varsity letters in hockey, lacrosse and football, graduating in 1937. Later, that fall, he was on campus at Princeton University studying the Classics and playing freshman football, hockey and lacrosse. In his senior year, he was hockey captain and in one memorable 4-2 win against Harvard he scored all four goals. He went into US Navy, serving as a Lieutenant aboard a destroyer. He taught at St. Paul's School in Concord and coached varsity boy's ice hockey for nine-seasons. Dan regularly was in the lineup for the famed Sacred Heart amateur hockey team of Concord, and in the 1950-51 season, in nine games, scored 19G – 16A – 35 P. In January of 1952, he worked a deal with his good friend, Walter Brown, to bring the US Olympic Team – soon bound for the Oslo Games – up to Concord for a pair of exhibition tilts at the church on Pleasant Street to help defray team travel costs. The two games were against Sacred Heart and St. Paul's.
Coach Category:
Ingersoll "Ingy" Arnold; (Died in 2004 at age 89)
Hailing from Morristown, NJ, he attended Bowdoin College four years (1935-39) where he was the first freshman to play on the varsity hockey team. Ingy's first appearance in New Hampshire was in 1948. He arrived with hockey on his mind and played one season with Concord's legendary Sacred Heart team. He was about to begin a stellar tenure as a player, referee and, most importantly, a coach. His commitment to coaching began in 1959 when he learned there existed a keen interest in creating the Concord Youth Hockey Association. He signed on as one of the founders and between 1959 and 1985 devoted his skills, energies and time to young skaters. The Concord Youth Hockey Association honored him with a plaque for his 25 years of commitment, having worked closely and mostly with the mite and squirt divisions. In 2005, the CYHA inaugurated the annual Ingy Arnold Good Sportsmanship trophy for members of the Mite travel team. A tuition scholarship for Mites and for first-year travel-team players also has Ingy's name on it.
Builder Category:
Jeff Eisenberg of Bedford, NH;
In September of 2000 when Jeff arrived in town as Monarchs president, a full 14 months before the Monarchs debuted at the Verizon Wireless Arena. At the time, the Arena was still a work in progress, as were the Monarchs, and much remained to be done. The Monarchs home opener was on November 16, 2001. During the 14-month push to unveil the Monarchs to the home crowd, Jeff wanted to establish a strong relationship in the community and initially contacted local enthusiasts, Francoise Elise and Dick Boucher. The trio talked; plans were formed; and soon they co-founded and drafted bylaws for The Legends of New Hampshire Hockey. The rest, as the saying goes, is history. The Monarchs, for eight consecutive years, were voted New Hampshire's Favorite Pro Sports Team and the team twice has been the AHL attendance leader, averaging 8000-plus fans per game. In March of this year, after 10 years of hard work that produced nine successful AHL hockey seasons, Jeff departed as Monarchs' president.
Seaver Peters of White River Junction, VT;
Peters landed in the heart of the Upper Valley 60 years ago, fresh out of Melrose HS (Class of 1950), to enroll at Dartmouth College. Among the things he brought with him that day were the hockey skills he had been honing since the 7th grade, playing for Melrose HS, as a sophomore he was a first-line left wing for coach Charlie Holt, who later became UNH's legendary coach. By the 1949-50 season, Melrose was at its mightiest, in the end winning every title in sight. At Dartmouth, Seaver played for an undefeated freshman team, followed by three varsity seasons under famed coach, Eddie Jeremiah. As a junior and a senior, Seaver was a first-line center. He also was team captain as a senior. His sense of community hockey development never dimmed, though. In 1962 he was a founding member of the Hanover Youth Hockey Association and in 1988 he was involved with the planning and development of the James W. Campion Rink in West Lebanon.
Official Category:
Dick Theriault of Raymond, NH;
Dick went to Notre Dame High School in the late 1950s, at the time when the Rams were on a hockey roll, winning the state title four consecutive years. As a freshman (1957-58), he played center on the JV squad, and then, for the next three seasons, he skated varsity. He graduated in 1961. In 1970, he enrolled at New Hampshire College (now Southern NH University) in Manchester, graduating in 1974 with a business degree. Then he began his officiating career. Thou he never kept count, he is confident that his seasonal average was about 40 high school games, plus a dozen or so college games. And, too, there were those many youth hockey games – all of that officiating spread across 31 years, non-stop. The grand total? Oh, let's conservatively say, somewhere between 1400 and 1500 hockey games! Perhaps his single brightest officiating memory is the night in 1984 he called an exhibition match-up between the University of New Hampshire and the US Olympic team. The face off was in Manchester at the JFK Coliseum. "I'll never forget that one," he says. He is currently the regular home scorekeeper for the Charlotte Checkers, the AHL farm team of the NHL's Carolina Hurricanes.
Media Category:
Ken Cail of Manchester, NH;
His career ceased being a fantasy in 1970, at age 16, when he wrote a letter that quickly put him in the radio booth, although not behind the mic. Before he sat down to write that evening, he earlier had been at the old Boston Garden watching the then-Boston Braves of the AHL. Looking up into the radio booth, he noticed that legendary play-by-play man, Bob Wilson, had only a technician with him. Wilson, then heard live over WBZ-AM, was the unmistakable Voice of the Boston Bruins as well as the Boston Braves. Ken suspected that night, and rightly so, that Wilson didn't have a statistician beside him. So, he wrote and offered his services. His radio work life now has grown to be 38 years long, and for 35 of those years his sonorous sound and rich descriptions of the action have reached countless hockey, baseball and basketball fans. The Manchester Monarchs came to town. And in 2001, fans began hearing Ken's voice – at first over WGIR-AM and later over WGAM-AM. Today, he still is The Voice of the Monarchs, and for nine seasons hasn't missed a single broadcast, which, including playoffs, totals more than 800 consecutive games. Ken, today across a calendar year, combines four radio jobs: his June-to-September broadcasting of 76 Spinners games, his October-to-April broadcasting of 80 Monarchs games; his radio play-by-play of Southern New Hampshire University basketball games; and his five-day-a-week broadcast of the Morning Talk Show with co-host Peter St. James on WTPL-FM in Concord.
Master of Ceremonies Bob Norton and the Board of Directors congratulated and announced each member of the Class of 2010 into the New Hampshire Legends of Hockey Hall of Fame.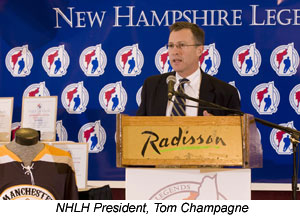 Tom Champagne, NHLH President welcomed the gathering and thanked the large audience for attending the event and supporting this year's inductees. He also welcomed several special guests and thanked the event sponsors. An update on the NHLH organization was given including the new online museum which will be launched very soon. He also mentioned several NHLH displays with local hockey artifacts are located through out NH. Attendees were encouraged to become members of NHLH, watch for future communications and check out the website.
Senator Lou D'Allesandro read a Commendation which recognized the original Monarchs from Governor John Lynch and also presented a State Senate Resolution for each of the inductees.
In attendance were 8 members of the original Manchester Monarchs. The Monarchs began play in the Queen City in 1970-71 and finished in 1973-74 while winning two straight New England Hockey League titles. In addition, in Celebration of their 10th season, the Manchester Monarchs (AHL team) also honored the original Monarchs team on Saturday December 4th by wearing replica jerseys of black, gold and white worn during those years. Those jerseys were auctioned that evening. Monarch representatives attending were: Pierre Belanger, Willie Bibeau, Ray Champagne, Ron Dubreuil, Andre Prefontaine, Andy St. Laurent, Jacque LeClerc and Ron Peters.
Executive Director Jim Hayes recognized the 25 returning Hall of Fame members in attendance. They were Bill Antonucci, Ben Arguin, Willie Bibeau, Pierre Belanger, Rod Blackburn, Dick Boucher, Ray Champagne, Ron Dubreuil, Merrill Fay, Bruce Gillies, Leo Gould, Jacques LeClerc, Roland Lavigne, Rene LeClerc, Bill Matthews, Ken McKinnon, Hubie McDonough, Omer Morin, Bob Norton, John Normand, Ron Peters, Andre Prefontaine, Dick Roy, Andy St. Laurent and Dede Villeneuve.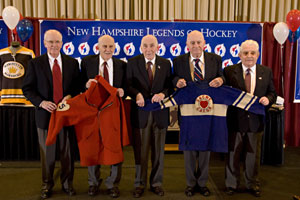 Jim Hayes announced that the Sacred Heart (Sacre Coeur) hockey team will be recognized in 2011 by the New Hampshire Legends of Hockey. Two of the 2010 inductees played for the Hearts, they were Ingy Arnold and Dan Stuckey. The team was formed by Father Drapeau in 1929-30 and continued playing through the 1951-52 season. They did battle with the US Olympic team on their home ice on Pleasant Street on January 8, 1952. In fact, all 5 remaining members of this team were in attendance and left to right they are Bill Rice, Red Adams, Barney Colgan, Pike Colgan and Tom Champagne.
The following businesses played a significant role in the success of our event and we would like to thank them again.
Title Sponsors
Vachon Clukay & Company PC
Corriveau-Routhier, Inc.
Gold Sponsors
Bogacz Photography/Digital Media
Great State Beverages, Inc.
New Hampshire Distributors, Inc.
Silver Sponsors
Amoskeag Beverages, LLC
Berlin City Auto Dealerships
Brine & Everett Sports
ClearChannel – WGIR
Fay's Boat Yard
Golf and Ski Warehouse
Verizon Wireless Arena
Bronze Sponsors
Berlin IGA Foodliner
Capital City Paving
Central Paper Products, Co.
Dwyer, Donovan & Pendleton
Eisenberg, Vital & Ryze Advertising
Milford Lumber Co. Inc.
Morgan Self Storage
Munce's Superior, Inc.
Northway Bank
Plodzik & Sanderson, PA
Rene LeClerc Insurance Agency
Sleepnet
St. Mary's Bank
Tardif Contracting & Landscaping, Inc.
Town and Country Motor Inn
Vaillancourt & Woodward, Inc.
2010 Inductees – L to R Dick Theriault, Seaver Peters, Madeline Stuckey, Norm Pinette, Walt Fournier, Missy Arnold Field, Lee Blossom and Eric Royal. Missing from this photo was Jeff Eisenberg, Ken Cail, Matt Robbins and Jack Rodrigue.
All Hall of Fame Members
To be considered for induction in 2011-12, nominations with complete documentation are due to the New Hampshire Legends of Hockey on March 1, 2011
Effective December 14, 2010, all photographs taken by Garabrant Photography at our event will be posted for 90 days on her website. Go to www.garabrantphotography.com and click on On-Line Ordering, enter the word legends as the password to view or purchase photographs. You may purchase individual photographs or the entire CD with all the images, including copyrights for $30.00. VISA, MC and AMEX are accepted.
Around the first of the year, Spotlight Video http://videonh.com/ of Hooksett, NH will have available the DVD of the Induction Ceremony for purchase. We will notify our 2010 inductees when it's ready, but if you are interested, please contact Jim Hayes at hayes743@comcast.net or 603-731-4168 later in January.