2011 Golf Classic A Huge Success
Thank you to everyone that supported our annual golf event. We are grateful to the players, sponsors and volunteers that help make this event better and more popular each year. Once again this year the weather was absolutely fantastic and it was a great way to spend time with our hockey family and friends.
Golfers received a welcome package, which included a two-pack of the best summer time insulated glasses around, the "16 oz. Tervis Tumbler" with the NH Legends of Hockey logo affixed. Golfers who arrived early were provided free chair massages prior to tee off by Andrea Kuhman of Arias Spa.
The event was kicked off with a message from Roland Olivier, President of the New Hampshire Legends of Hockey (NHLoH). He welcomed the players and thanked the volunteers and businesses that donated gifts for the "Legends Ultimate Raffle", our 2011 Title Sponsor, Vachon Clukay & Company PC of Manchester, and the 27 other Silver and Bronze sponsors for their support. Roland also recognized individuals in attendance, representing our Hall of Fame.
2011 Title Sponsor
Vachon Clukay & Company PC
Silver Sponsors
Amoskeag Beverages, LLC
Bogacz Photography/Digital Media
Gamache Enterprises
Great State Beverages, Inc.
Rowley Insurance Agency
Bronze Sponsors
Capital City Paving
Christian Party Rental
Corriveau-Routhier, Inc.
Fay's Boat Yard
Hanover Hill Siding Company Inc.
Isaacson Structural Steel
Karr & Boucher PLLC
Kelley's Auto Parts
L. A. Brochu Inc.
Lakes Region Legends
Manchester 40+ Hockey League
Milford Lumber Co. Inc.
Morgan Storage
Northway Bank
Pennichuck Corporation
Preti Flaherty
Print Management Group
R & T Electric Inc.
Rene LeClerc Insurance Agency
Rowley Insurance Agency
Sleepnet
St. Mary's Bank
Olivier mentioned the 2011 Induction Ceremony is slated for Sunday October 30, 2011 and will be held at the Grappone Conference Center in Concord. "Today, we have four of those individuals with us, in addition to Len Brochu, the son of Leonard "Red" Brochu (deceased) in the officials category. Other inductees in attendance are Dunc Walsh (Concord) in the coaches category, Dana Barbin, Ryan Brandt and Karl "Red" Adams (Concord) in the player category. The sixth member of the Class of 2011 is Sanford "Sandy" Sistare (deceased) in the builders category. We hope many of you can join us so look for future communications on this important event.
Roland welcomed and introduced the President of the Manchester Monarchs Darren Abbott. The Monarchs and the NH Legends will both be recognizing the Sacred Heart Hockey Club of Concord who played in the 30`s through the 1951-52 season. Three of the six team members who there in attendance were introduced to the crowd. They were Karl "Red" Adams, Tom Champagne and Barney Colgan. Unable to attend were Jim Stohrer, Pike Colgan and Bill Rice.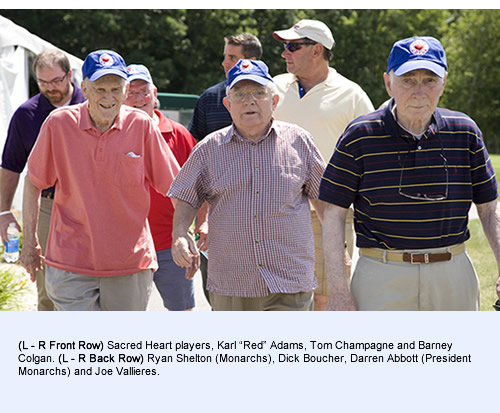 Again, thank you to all our volunteers Greg Nolin, Wendy Hayes, Don and Linda Huot, Bob and Kathy Vachon, Dick Boucher, Walter Nadeau, Roland Martin, Dick Theriault, Pierre Belanger, Hubie McDonough and John Cassidy who worked very hard all-day long keeping the registration, raffle and on course contests running smoothly.
2011 Champions
Congratulations to Casey Kesselring, Jeff Graham, Mike Beliveau, Trevor Smith who finished the very competitive event with five other teams at 12 under par.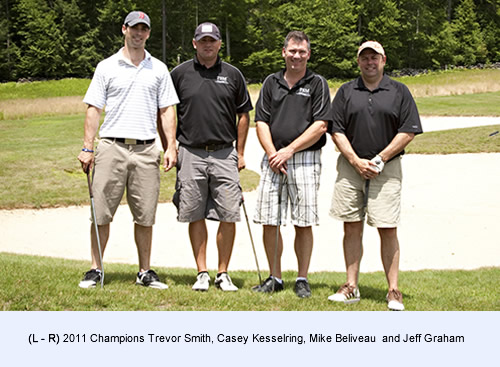 All Champions
2011 – Casey Kesselring, Jeff Graham, Mike Beliveau, Trevor Smith
2010 – Chris Chisholm, Jim Hayes, Ray Martin, Pat McNicholas
2009 – Mike Castagna, Paul Lemire, Doug Leppart, Doug Snyder
2008 – Chris Chisholm, Jim Hayes, Ray Martin, TJ Whitelaw
2007 – Mike Castagna, Mike Ladouceur, Johnna Lory, Rich Tombs
2006 – Ken Roberge, Mike McGinn, Glen Williams, Dwayne Robinson
Complete Golf Results
2nd Place – Lee Blossom, Dunc Walsh, David Tillotson, Brian Smith
3rd Place – John Holm, Brian Hoffman, Nancy Killbride, Sean Bradley
Long Drive # 2 Women – Angela Toppazzini
Long Drive #2 Men – Paul Caso
Straightest Drive # 1 – John Filyaw
Longest Putt # 9 – Brian Smith 13'4″
Closest to the Pin # 4 – Jerry Collins
Closest to the Pin # 6 – Gade Friborg
Closest to the Pin # 13 Frank Coyne
Closest to the Pin # 16 Doug Place
Closest to the Pin #18 Second Shot – Jaccque Rodrigue
Putting Contest – Champion Bob Tappan, 2nd Place Alan Popkin
2012 Golf Date
The 2012 Golf Classic is scheduled for Friday July, 13, 2012, so mark your calendar!
Photos
All photos taken by Amanda of Defining Moments Photography will be available for purchase on her website.. Go to www.definingmomentsphotonh.com and under "Client Viewing" you will see the slideshow. The password is `Legends.` If you have any questions you can`t find the answers for, please email amanda@definingmomentsphotonh.com and Amanda will get back to you.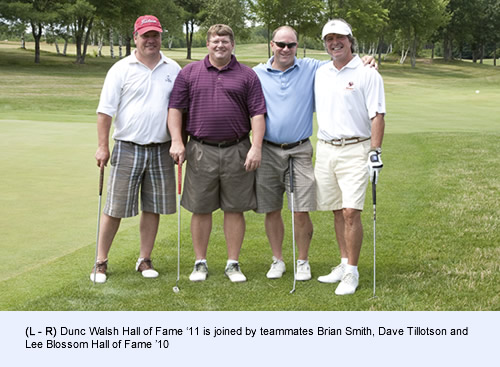 The New Hampshire Legends of Hockey gather nominations for election to the Hall of Fame, and raise money to preserve the donated archives, including historical literature, records, photos, film, clothing, equipment, trophies, etc. These collected artifacts are available for the viewing public in Berlin, Concord, Manchester and Nashua and on our on-line museum. We continue to search for artifacts and film from the old days. Anyone wishing to donate either is welcomed to do so.