2014 Golf Classic Another Big Success
Manchester, NH
Thank you to everyone that supported our Ninth Annual Golf Classic, presented by Bauer. Our event was held July 11 at the Stonebridge Country Club in Goffstown. As Gregg Moffett told those in attendance "we are extremely grateful to all the players, sponsors, contributors (gifts in kind) and volunteers that help make this event one of the best in the state, each and every year".
Once again we enjoyed marvelous weather and it was a great way to spend time with our hockey family and friends. Golfers who arrived early were provided free chair massages prior to tee off by Andrea Kuhman of Arias Spa in Manchester.
The event was kicked off with a message from Greg Moffett, President of the New Hampshire Legends of Hockey (Legends). He gave special thanks and recognition to our "Presenting Sponsor, Bauer (Global Headquarters) of Exeter, NH and our Gold Sponsor, St. Paul's School of Concord". In addition thanked our nine Silver and twenty-five Bronze Sponsors which are listed below.
Silver Sponsors: Amoskeag Beverages, LLC – Bow; Bogacz Photography/Digital Media- Concord; Gamache Enterprises – Manchester; Great State Beverages, Inc. – Hooksett; Morgan Storage – Manchester; Pro Ambitions – Dover, MA; Rowley Insurance Agency – Concord; SERVPRO of Manchester and Triplet Computers – Concord.
Bronze Sponsors: Ackerson State Farm Agency; Arcomm Communications; Banks Chevrolet-Cadillac-Buick-GMC; Berlin Youth Hockey Association; Capital City Paving; Christian Party Rental; Corriveau-Routhier, Inc.; EVR Advertising; Fay's Boat Yard; Hanover Hill Insulation and Siding; Karr & Boucher, PLLC; Kelly's Auto Parts; L.A. Brochu, Inc; Law Offices of Roland E. Olivier, PLLC; Legacy Financial Solutions, Inc.; Manchester 40+ Hockey League; Milford Lumber; New Hampshire Distributors, Inc.; Northway Bank; North Country Tractor; PretiFlaherty-Concord; Rath Young Pignatelli; R & T Electric Inc.; Rene LeClerc State Farm Agency and Sleepnet.
In addition, Greg acknowledged five of the seven members from the Class of 2014 who will be honored this October 26 at Concord's Grappone Center at the Thirteenth Annual Legends of Hockey Induction Ceremony. Those playing today are Mark Evans; Steve Murphy in the Player Category and Bruce Crowder; Rick Middleton and Bruce Parker in the Coaches Category. In addition, the Legends will honor the history of the Hanover High School Boys and Girls Hockey teams and we're pleased to have both Head Coaches, Dick and John Dodds with us today.
Contributors (Gifts in Kind) click to view
Volunteers
Our volunteers worked very hard all-day long keeping the registration, raffle and on course contests running smoothly. Many thanks again to Pierre Belanger, Joni Bertolami, Dick Boucher, John Cassidy, Monique Chauvette, Barney Colgan, Dave Corriveau, Stats Elliot, Tom Gagne, Jay High, Roland Martin, Mat Myers, Sam Paquette, Dick Roy, Dick Theriault & Bob and Kathy Vachon.
Champions!
Congratulations to this year's Champions Todd Philbrick, Tom Otto, Jim Corbett and Jerry Collins. The Philbrick group scored a 12 under 60 and on a match of cards edged the two groups of (Ken Roberge, Glen Williams, Steve Smith and Marc Morin) and (Dave Masinick, Joe Vallieres, Al Gilbert and Dennis Murphy).
All Champions
2014 – Todd Philbrick, Tom Otto, Jim Corbett, Jerry Collins
2013 – Dick Dodds, John Dodds, Scott Peters, Dean Cashman
2012 – Chris Chisholm, Jim Hayes, Ray Martin, Pat McNicholas
2011 – Casey Kesselring, Jeff Graham, Mike Beliveau, Trevor Smith
2010 – Chris Chisholm, Jim Hayes, Ray Martin, Pat McNicholas
2009 – Mike Castagna, Paul Lemire, Doug Leppart, Doug Snyder
2008 – Chris Chisholm, Jim Hayes, Ray Martin, TJ Whitelaw
2007 – Mike Castagna, Mike Ladouceur, Johnna Lory, Rich Tombs
2006 – Ken Roberge, Mike McGinn, Glen Williams, Dwayne Robinson
On Course Contests
Long Drive # 18 – Dwayne Robinson
Closest to the Line #1 – Lee Blossom 6″
Closest to the Pin # 4 – Matt LaBelle 5″
Closest to the Pin # 6 – Tom Maher 7'3″
Closest to the Pin # 13 – Greg Moffett 1'10"
Closest to the Pin # 16 – Jerry Collins 5'0″
Closest to the Pin #18 Second Shot – Dan Fawcett (holed out)
Putting Contest Champion – Gregg Goodwin
2015 Golf Date
The 2015 Golf Classic is scheduled for Friday July, 10, 2015, so please mark your calendar, grab your players plan on joining us!
Golf Photos
All photos were taken by Jim Paiva Photography and are available for purchase. Click on Jim Paiva website to view and or purchase photos. All photos are available at a reduced rate.
On-Line Auction Items
We are offering the following items for auction to our entire contact list. We will update current high bids along with the initials of the bidder approximately every 3 days beginning Friday August 22, 2014 and continuing to 5:00 Eastern time on August 29th. If you are interested in bidding on any item(s) email hayes743@comcast.net.
Item One
Two tickets for the September 2014 NASCAR Sylvania 300 Race at the New Hampshire Motor Speedway. Opening minimum bid $100.00
Item Two
LA Kings puck signed by two-time Stanley Cup winning goaltender Jonathan Quick
Opening minimum bid $50.00
Item Three
Puck Signed by St. Louis Blues Captain David Backes
Opening Minimum Bid $15.00
Item Four
Puck Signed by St. Louis Blues forward TJ Oshie
Opening Minimum Bid $10.00
Item Five
Puck Signed by St. Louis Blues defenseman Kevin Shattenkirk
Opening Minimum Bid $10.00
Item Six
Puck Signed by St. Louis Blues forward Patrik Berglund
Opening Minimum Bid $10.00
Item Seven
Sherwood G9950 goalie stick signed by St. Louis Blues goaltender Jaroslav Halak
Opening Minimum Bid $50.00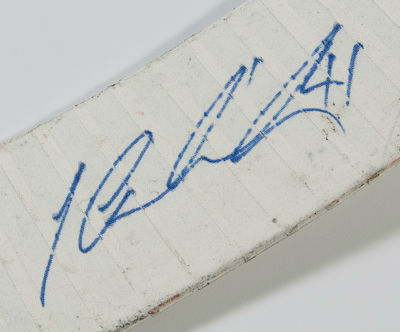 The New Hampshire Legends of Hockey gathers nominations for election to the Hall of Fame, and raises money to preserve the donated archives, including historical literature, records, photos, film, clothing, equipment, trophies, etc. Many of these collected artifacts are available public viewing via our display cases in Berlin, Concord, Manchester and Nashua and on our on-line museum. We continue to search for artifacts and film from the old days. anyone wishing to donate either is welcomed to do so.