2009 NH Legends Golf Classic A Success
"Record number of golfers for annual event"
After what seemed like two months of cloudy skies and plenty of rain, the sun came up on July 10th and the skies were the bluest of blues and temperatures rose into the 80's for the 4th Annual New Hampshire Legends of Hockey Golf Classic.
A record number of enthusiastic golfers (136) gathered at Stonebridge Country Club in Goffstown for a wonderful day of golf and great camaraderie. In addition to the turnout, sponsors and raffle donors hit record highs as well. A complete list of event sponsors is located below. We appreciate everyone's support as well as all the volunteers that help make this the most successful golf tournament put on this year's event.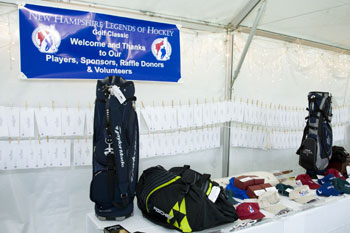 Now for the Golf results:
Putting Championships: 1st Steve Grzywacz, 2nd Leo Gould
Closest to the Pin # 4: Derek Boogard
Closest to the Pin # 6: (card was taken)
Closest to the Pin # 13: Rene LeClerc
Closest to the Pin # 16: Derek Boogard
Closest to the Pin (second shot) #18: Gregg Fournier
Longest Putt #9: Peter Bedford Straightest Drive #1 Rob Bouchard
Long Drive Men #2 Doug Snyder and Lee Hayes
Long Drive Women #2 Vicky Cruz
3rd Place: (58) Ken Roberge, Mike McGinn, Dwayne Robinson and John Filyaw
2nd Place (57) Jim Hayes, Pat McNicholas, Chris Chisholm and Ray Martin
And congratulations to the 2009 winners:
To view and purchase photos taken during the tournament, go to www.garabrantphotography.com, then slideshow and NH Legends of Hockey. The password is "Legends". If you have any questions email amanda@garabrantphotography.com
Keep an eye on our website for next year's 2010 Golf Classic brochure. Don't wait to sign up and pay as the field will be limited. The date is tentatively set for Friday July 9, 2010 back at Stonebridge.
THANK YOU TO OUR SPONSORS
Would like to thank all of our Sponsors and hope you will patronize them when you have the opportunity.
Gold Sponsor
Vachon, Clukay & Co., PA – Manchester
Silver Sponsors
Amoskeag Beverages, LLC – Bow, NH
Gamache Enterprises – Manchester
Tanguay Homes – Concord
Bronze Sponsors
Ackerson State Farm Insurance Agency
Bailey's Custom Carpets
CCHL 40+ Hockey League
Corriveau-Routhier, Inc.
Karr & Boucher, PLLC
Lakes Region Legends Hockey Club
L.A. Brochu Inc.
Legacy Financial Solutions, Inc.
Manchester 40+ Hockey League
Milford Lumber
Morgan Storage
New England Huskies Junior Hockey Club
Plodzik and Sanderson, PA
PretiFlaherty – Concord
Print Management Group
Queen City Glass
R & T Electric
Rowley Insurance Agency
Rene LeClerc State Farm Insurance Agency
Sendlabs
St. Mary's Bank
Total Sports Management
Town and Country Motor Inn
Wachovia Securities – David Higgins
Many thanks to our players, volunteers and the businesses and individuals who help make our raffle the Ultimate raffle.
Everett Sports Center and Dave Mattson for their help with the 1st place team prizes as well as Everett Sports for our 2nd and 3rd place team prizes and Stonebridge Country Club for their donation of one group lesson for the last place team given by Head Professional Matt Madore.