Monarchs To Play Exhibition Game In Berlin, NH
MANCHESTER, NH – The Manchester Monarchs, the primary affiliate of the Los Angeles Kings, will host the Portland Pirates in their lone exhibition game at the Notre Dame Arena in Berlin, New Hampshire, at 2:00 p.m. on Sunday, September 27 with ticket proceeds benefiting the New Hampshire Legends of Hockey and Berlin Youth Hockey.
"The Monarchs are proud to return to the birthplace of hockey in New Hampshire – Berlin ," said Monarchs President Jeff Eisenberg. "The fan support we received two years ago during a preseason game was incredible. We are both pleased and honored to be able to bring our team back up to the North region to share the sport of hockey with the people of Berlin and the surrounding communities."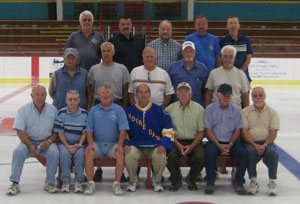 Tickets for the Manchester-Portland exhibition game on September 27 at the Notre Dame Arena are on sale now. Fans can purchase tickets for $12.00 at the Monarchs Pro Shop, located in the main entrance of the Verizon Wireless Arena in Manchester (555 Elm Street) or in Berlin at Berlin IGA Foodliner (19 Pleasant Street, Berlin), Northway Bank (9 Main Street, Berlin), Notre Dame Arena (15 Hillside Avenue, Berlin), Angel Guardian Credit Union (200 Coos Street, Berlin), Munce's Superior Inc. (79 Pleasant Street, Berlin) and Gorham Hardware (96 Main Street, Gorham) or online at www.nhlegendsofhockey.com.
"New Hampshire Legends of Hockey honors the men and women who have made outstanding contributions to hockey in the state of New Hampshire ," said Tom Champagne, President of New Hampshire Legends of Hockey. " Berlin is a primary reason for the development of hockey in this state. It is a privilege for our organization and the Monarchs to honor the hockey history of Berlin ."
The Monarchs will pay tribute to Berlin' s hockey heritage at the game by wearing custom jerseys honoring Notre Dame High School . The specialty royal blue and gold jerseys will be available in a live auction following the exhibition game, as well as a silent auction during the Monarchs game at 3:00 p.m. on Sunday, October 18 against the Springfield Falcons at the Verizon Wireless Arena. Raffle tickets to win three of the custom jerseys will be available shortly. The winning ticket will be drawn during the second intermission of the game in Berlin . Proceeds from the raffle and auctions will benefit the Monarchs Care Foundation and the New Hampshire Legends of Hockey.