2013 High School Hockey News
Manchester, NH – March 13, 2013
2013 State Champions
Congratulations to all the players, coaches and staff for your State Championship for the 2012-13 season. To read related story from the New Hampshire Sunday News (Union Leader), click on headlines listed below.
Div. I – Memorial tops Central in OT, 3-2.
Div. II – Bedford takes down # 1 Merrimack 5-2
Div. III – John Stark / Hopkinton knocks off Berlin in OT, 3-2
Girls – Hanover perfect season ends with 3-1 win over Oyster River
2013 All-State Teams Announced
The NH High School Coaches Association (NHHSC) announced today their 2012-13 All-State selections for Girls and Boys Div. I, II and III. The NHHSC is comprised of high school coaches from across the state. Duncan Walsh, President of the NHHSC and Head Coach of Concord HS Hockey team said "we are pleased to continue our partnership with the NH Legends of Hockey". For the third year, the Legends are providing framed certificates for each recipient. Those is attendance for the boys Senior All-Star Classic will receive theirs after the game.
Click on each Division to view All-State recipients for this year and All-Time. Girls, Division I, Division II and Division III. If anyone has news articles of All-State recipients for missing years, please contact the Legends and we will include in this history.
2013 Senior All-Star Teams Announced
The NH High School Senior All-Star Classic will be held Saturday March 16th at the Douglas N. Everett Arena in Concord beginning at 7:00 pm. The NHHSC selected two teams who will compete against each other in the Annual Red White Game. The players will wear the Legends jerseys for the game pictured below. Tickets may be purchased at the door and prices are $5.00 for Adults and $2.00 for students and seniors.
At this time rosters have not been submitted to us. They will be posted in this article on as soon as we receive them.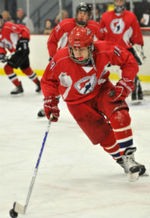 Action photographs will be taken by Jim Paiva. Click on http://www.jimpaiva.com/2013_All_Star_Classic/ to view and or purchase. The NH Legends purchased jerseys and socks which are used annually for this game. Exact replica jerseys are available for purchase and ordering details will be available at the game.
In addition, from those participants Saturday night, the Coaches will select one team to participate this July in Vermont to compete in the Annual Make a Wish Games at the University of Vermont in Burlington. The Girl's will also be competing in Vermont and both teams will wear the Legends uniforms.
"Our organization is proud to support and celebrate the history and game of hockey in NH and wanted to do something to recognize these special high school athletes" stated Roland Olivier, President of the Legends.
"The NH Legends organization recognizes the important role high school hockey has played in the history of the sport in our state" said Jim Hayes, Legends, Executive Director. "In addition to supporting high school hockey with this donation, we also collected and made available on our web site results of all high school hockey championship games dating back to 1946-47 as well as coaching records." To view records, go to High School Archives.
About New Hampshire Legends of Hockey
Consistent with its mission of preserving the history of ice hockey, and growing the sport of ice hockey, in New Hampshire, the New Hampshire Legends of Hockey ("Legends") supports secondary school hockey by awarding certificates to New Hampshire high school and prep school All-State players and coaches of the year, and sponsors the Annual Ssenior All-Star Hockey Classic and Make-A-Wish games. The Legends also actively solicits historical, hockey-related artifacts for preservation and display to the general public. Late last year, the Legends launched their new online museum. This museum contains the state's hockey history and heritage gathered from periodicals, game film, trophies, photos, uniforms, other clothing, etc. The museum is searchable by the number of fields such as team, player, jerseys etc. While there are several hundred photos currently available for viewing new ones will be added on a ongoing basis so be sure to check back frequently.
The New Hampshire Legends of Hockey is a self-governing, non-profit, 501(C)(3) association incorporated with the State of New Hampshire. For more information on the Legends of Hockey, visit their web site at nhlegendsofhockey.com.