All-State Prep Teams Announced
Manchester, NH
The Prep School Hockey Coaches of NH announced their 2016-17 All-State selections for both the boys and girls divisions. The eight prep schools in New Hampshire are: Brewster Academy; Holderness School; Kimball Union Academy; New Hampton School; Phillips Exeter Academy; Proctor Academy; St. Paul's School and Tilton School.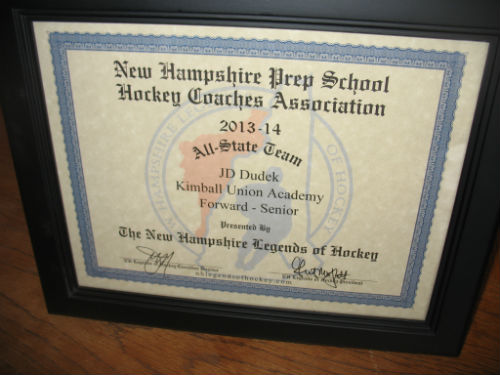 Mike Walsh, head coach of Proctor Academy said "we are pleased to continue our partnership with the NH Legends of Hockey". The Legends have provided certificates signed by their President John Normand and Executive Director, Jim Hayes. The certificates should be mailed to the Athletic Directors next week.
Click here to view Boy's and Girl's All-State Teams
Tournament Results for NH Schools
Boy's Hockey
Regular season records had Kimball Union (30-5-2), Phillips Exeter Academy (23-7-1), Proctor Academy (16-11-1), New Hampton School (18-13-1), Tilton School (17-12-1) and Holderness School (15-13-1) all advanced to NEPSAC post-season tournaments.
Proctor beat Tilton 7-3 in the Lakes Region championship and advanced to the NEPSAC quarterfinals, before losing to Avon Old Farms. Proctor ended their season with an overall record of 16-12-1.
Meanwhile, for the first time in 35 years, the Kimball Union Academy boys' varsity hockey team captured the New England Prep School Championship Elite 8 Championship, courtesy of a 6-2 win over Rivers at St. Anselm College in Manchester. KUA won the inaugural NEPSAC Elite-8 Title back in 1982, and this victory marks the second time that the Wildcats have been crowned the best high school hockey team in New England.
Coach Tim Whitehead and his team ended their remarkable season with an overall record of 32-5-2.
All New England Team
East 1st Team
Casey Careau – Thayer Academy
Jay O'Brien – Thayer Academy
Michael Lombardi – Kimball Union
Jack Rathbone – Dexter School
Reilly Walsh – Proctor Academy
Logan Bateman – Holderness School
East 2nd Team
Christian O'Neill – Belmont Hill
Neil Shea – Lawrence Academy
Timmy Kent – Lawrence Academy
Eric Jeremiah – St. Sebastian's School
Mike Young – Rivers School
Aidam Murphy – Dexter School
Girl's Hockey
After beating KUA (2-1) in the Lakes Region playoffs, New Hampton ended as this year's season and playoff Champions for the Fourth straight year. The Lakes Region final standings were: New Hampton; Kimball Union; Proctor; Vermont; Holderness, Tilton and Brewster.
NEPSAC DI Playoffs
#5 St. Paul's traveled to #4 New Hampton for the New England Quarterfinal game. New Hampton won the game 2-1 in OT to advance to the semis.
New Hampton went on to beat Loomis (3-2) and Kent in the Finals (3-1) to win their first ever New England Championship. Also, the championship MVP went to New Hampton's defensemen Cayla Barnes.
NEPSAC DII Playoffs
KUA #4 hosted Thayer #5 in the New England Quarterfinal game but ended up
losing 5-1.
2017 All-NEPSAC DI Teams
NEPSGIHA Div. I Player of the Year: Cayla Barnes – New Hampton School
All-NEPSAC First Team:
Gillis Frechette – St. Paul's School
Cayla Barnes – New Hampton School
Div. I Honorable Mention Team:
Finley Frechette – St. Paul's School
Savanah Norcross – New Hampton School
2017 All-NEPSGIHA Div. II Teams
All-NEPSAC First Team:
Greta Close – Kimball Union Academy
Honorable Mention Team:
Julia Surgenor – Kimball Union Academy
Haley Parker – Proctor Academy
AnnMargaret DiSciscio – Tilton School
Kiara Vazquez – Proctor Academy