2023 High School News & Awards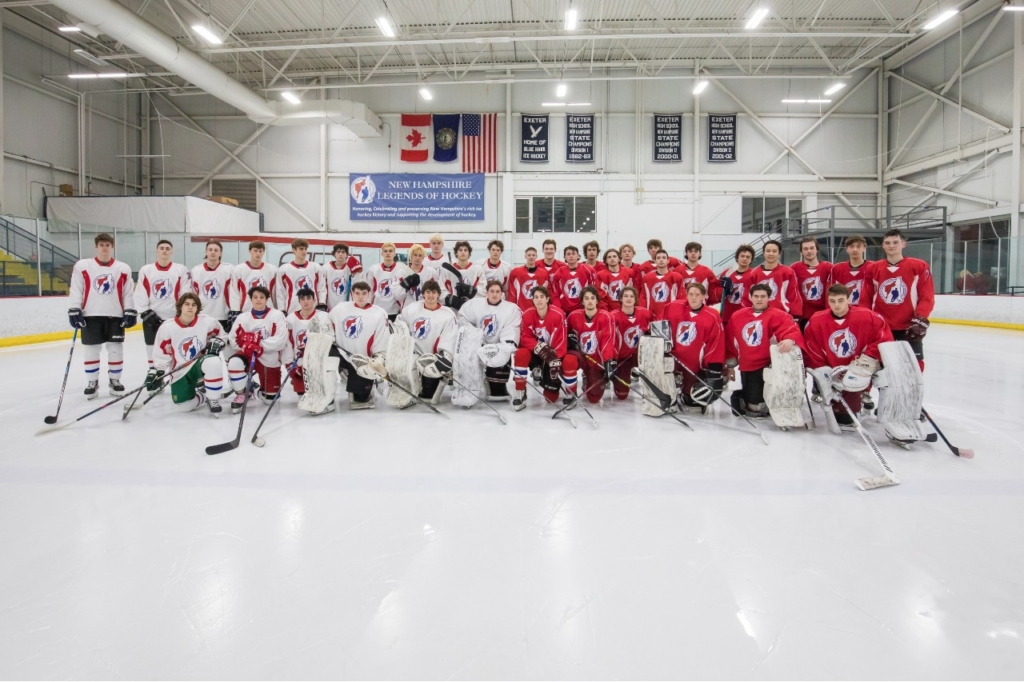 HIGH SCHOOL ALL-STAR DOUBLEHEADER
Tomorrow, on Sunday March 19th the NH Legends of Hockey will once again host the Senior All-Stars in their annual doubleheader at The Rinks at Exeter. Teams were selected by the NH High School Coaches Association. In addition, New Hampshire Distributors is the major sponsor along with one of their products, PRIME HYDRATION.
The Division I/II game begins at 12:00 noon – Click here to view program.
The Division III contest begins at 12:10 pm – Click here to view program.

Photos of both games will be available to view and or purchase through Matt Parker at https://mattparkerphotos.smugmug.com/
The Coaches will select a group of seniors who will participate in the 31st Annual Men's & 26th Annual Women's VT/NH All-Star Hockey Classic benefiting Make-A-Wish Vermont and Make-A-Wish New Hampshire will take place at the Gutterson Field House at the University of Vermont on July 1st.

The women's game will begin at 4 pm and the men's game at 6:30 pm. The Skills competition will be held Friday night. date. The New Hampshire Senior All-Star Team will be selected by the Coaches Association after today's action.

Those players chosen for the Boy's team will be contacted by the coaches in the near future.
Go to http://www.allstarhockeyclassicvtnh.org/ for details of the Vermont event for our Boys and Girls teams.
ALL-STATE SELECTIONS
The 2022-23 NHIAA All-State Hockey Teams as selected by the NH High School Coaches Association. Certificates are provided by the NH Legends of Hockey and will be mailed to their Athletic Directors.

Girls Division
Coach of the Year: John Dodds (Hanover) Player of the Year: Maeve Lee (Hanover)

First Team
Jenna Lynch, F, Sr., Bishop Guertin; Maeve Lee, F Jr., Hanover; Riley Dunn, F, Jr., Pinkerton; Ava Bartoli, D, Jr., Berlin-Gorham-Kennett; Maggie Farwell, D, Sr., Oyster River-Portsmouth; Diana Pivirotto, G, Sr., St Thomas-Dover-Winnacunnet

Second Team
Evey Heppler, F, Fr., Bishop Brady-Trinity-Londonderry; Kelly Zhang, F, Sr., Senior Oyster River-Portsmouth; Juliana Grella, F, Jr., St Thomas-Dover-Winnacunnet; Maddie Gibeault, D, Sr., Pinkerton; Kali McDonnell, D, Sr., Hanover, Eleanor Edson, G, So., Hanover

Honorable Mention
Lauren Thomas, F, Sr., Bedford; Nora Bradley, F, So., Hanover; Lilyan Blood, F, Jr., Exeter; McKenzie Wessling, D, Sr, St Thomas-Dover-Winnacunnet; Mauren Ladzinski, D, Jr., Keene; Amelie Cowieson, G, Sr., Oyster River-Portsmouth
Division I
Coach of the Year: Gary Bishop (Bishop Guertin) Player of the Year: Brooks Craigue (Concord)
First Team
Brooks Craigue, F, Sr., Concord; John Mantone, F, Sr., Bishop Guertin; Cam Snee, F, Sr., Exeter; Joey Tarbell, D, Sr., Concord; Maddox Muir, D, Sr., Bedford; Vito Mancini, G, Sr., Windham
Second Team
Aiden Palmeter, F, Sr., Trinity; Logan Vogel, F, Sr., Bishop Guertin; Ty Robinson, F, Sr., Exeter; Cam Keaveney, D, Jr., Exeter; Jack Shoemaker, D, Jr., Concord; Braydon King, G, Jr., Bishop Guertin
Honorable Mention
Aiden Quaglietta, F, Jr., Windham; Lorenzo Corsetto, F, Sr., Pinkerton; Brandon Morin, F, Jr., Londonderry; Ryan Kelley, D, Sr., Bishop Guertin; Casey Kramer, D, Jr., Windham; Damien Carter, G, Sr., Pinkerton
Division II
Coach of the Year: Mike Young (Dover) Player of the Year: Brendan Chrisom (St. Thomas)
First Team
Brendan Chrisom, F, Sr., St. Thomas; Eliot Medlock, F, Jr., Merrimack; Jacob Lapierre, F, Sr., Dover; Gavan Bullen, D, Jr., St. Thomas; Kyle Dunn, D, Sr., Merrimack; Brett Davis, G, Sr., Dover
Second Team
Colin Chrisom, F, Sr., St. Thomas; Brady McDonough, F, Sr., Dover; Finn Bussirre, F, Sr., Portsmouth – Newmarket; Wyatt Bell, D, Sr., Dover; Xavier Bibaud, D, Sr., Goffstown; Hunter Marshall, G, Sr., Winnacunnet
Honorable Mention
Logan Spagna, F, Sr., Dover; Matt Ryan, F, Sr., Alvirne – Milford; Jonny Pelletier, F, Sr., Somersworth – Coe-Brown; Connor Strum, D, Sr., Somersworth – Coe-Brown; Curtis Leitz, D, Sr., Oyster River; Matt Licata, G, Sr., Merrimack
Division III
Coach of the Year: Mike Poulin (Berlin-Gorham) Player of the Year: Owen Guerin (Belmont-Gilford)
First Team
Will Danais, F, Sr., Kingswood; Evan Guerin, F, So., Belmont-Gilford; Zach Spicuzza, F, Sr., Laconia-Winnisquam-IL; Owen Guerin, D, Sr., Belmont-Gilford; Robbie Murphy, D, Jr., Kennett; Liam Cripps, G, Jr., Pembroke-Campbell
Second Team
Cameron Plumb, F, Jr., Junior Pembroke-Campbell; Jesse Gertz, F, Sr., Hollis Brookline-Derryfield; Brody Duquette, F, Sr., Berlin-Gorham; Shaw Swinerton, D, Sr., Kingswood; Jack Lager, D, Sr., Hollis Brookline-Derryfield; Kolin Melanson, G, Jr., Berlin-Gorham
Honorable Mention
Luke Sabatini, F, Jr., Sanborn-Epping; Michael Cote, F, Jr., Berlin-Gorham; Kip Hedquist, F, Fr., John Stark-Hopkinton-Hills Deer; Andrew Dannehy, D, Sr., Lebanon-Stevens-Mt. Royal; Aidan Mckenzie, D, Jr., Belmont-Gilford; Carson McGreevy, G, So., Belmont-Gilford