New Hampshire Legends Of Hockey To Enshrine Five Members
The New Hampshire Legends of Hockey is pleased to announce five inductees for its Nineteenth Hall of Fame Class. The Induction Ceremony, originally slated for this October 25, 2020, will take place on October 24, 2021.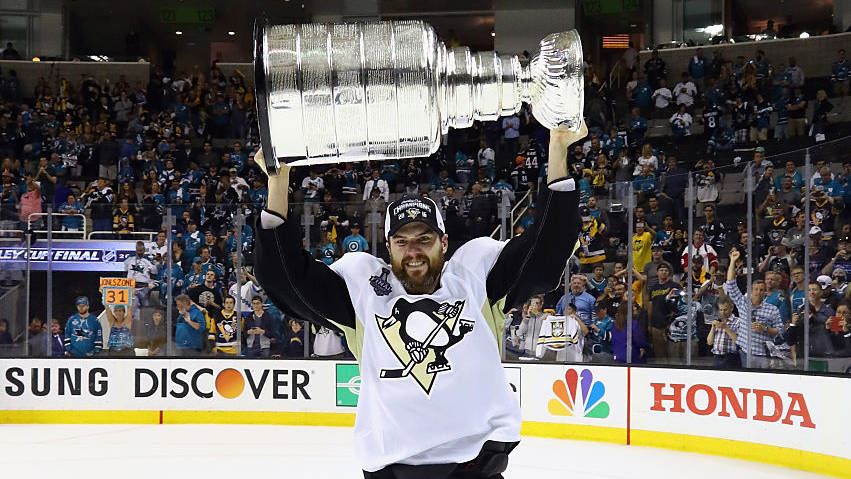 Ben Lovejoy (above) and Lauren Slebodnick are being inducted as players, Brian Murphy is being inducted as an official, Bruce Valley will be inducted in the Media category and Paul Chalue is being inducted as a builder.
In addition, the history of the Exeter High School boy's and girl's hockey programs will also be honored at the event.
Here is a closer look at the five inductees:
Lauren Slebodnick: One of the best goalies in Cornell women's hockey history, Slebodnick grew up in Manchester and played for the East Coast Wizards and Cushing Academy. In her first two years at Cornell she shared the goalie duties, playing 16 and 17 games, respectively, and posting save percentages of .942 and .924. As a junior, she set the program's single-season record for wins (24) and helped the Big Red reach the eight-team NCAA tournament all four years she was there. She also played two seasons for the Boston Pride of the NWHL.
Ben Lovejoy: Born in Concord and raised in Canaan, NH where his father worked at the Cardigan Mountain School, Lovejoy owns the distinction of being the first New Hampshire-born player to win the Stanley Cup, which he did with the Pittsburgh Penguins in 2016. The former Dartmouth College standout played in 544 NHL games over 11 seasons plus 76 playoff games, scoring five goals and 11 assists. Regarded as an elite penalty killer, he also played for the Anaheim Ducks, New Jersey Devils and Dallas Stars before his retirement in the summer of 2019.
Brian Murphy: Murphy grew up in Dover and played hockey at Dover High School, and went on to make a name for himself as one of the most respected officials in professional hockey. He was chosen to work nine Stanley Cup Finals between 1995 and 2017 — including two Game 7s — and also the Vancouver Olympics and the first outdoor game at Fenway Park in 2010. On March 16, 2019, he became only the eighth official in the history of the NHL to have worked 2,000 regular-season games, and did so as both a referee and a linesman. He is currently the supervisor of men's officials for the Hockey East Association.
Bruce Valley: Valley grew up playing hockey in Rye, and his experience as a hockey player and a military veteran — he served as a Navy rescue pilot in Vietnam, then as an experimental test pilot — influenced and seasoned his style when he turned to an accomplished writing career. He is the author of "Seahawk: Confessions of an Old Hockey Goalie" and "Rye Harbor: Poems of the New Hampshire Seacoast." Valley is being inducted into the media category for the work he's done in preserving, recounting and celebrating the rich and fascinating story of hockey's golden era in New Hampshire.
Paul Chalue: Chalue moved to Dover in the summer of 1977 from Needham, Mass., where he was close friends with the family of future NHL player and coach Robbie Ftorek. Chalue would shape the hockey culture in the Seacoast region for decades to come. He was hired by the City of Dover as the first director at the new public ice arena and built it into the modern Foster Rink as it is known today. He served in the arena position from 1977-1994. He was then promoted to director of city buildings and grounds and oversaw the construction of the adjacent Holt Rink, as well as the increase in both youth and adult hockey players, until his retirement in 2007.