NH High School All-Stars Take on VT
The Make-A-Wish All-Star Hockey Classic returns for another year at Gutterson Fieldhouse this weekend.
The Vermont and New Hampshire boys will square off for the 31st time on Saturday, July 1, while the girls game reaches is set for its 26th meeting. The showcase features the top graduated high school seniors of Vermont and Hampshire.
The girls contest is slated to start at 4 p.m., the boys game at approximately 6:30. Tickets are $15 for adults, $5 for students (ages 7-17). Children 6 and under are free.
On Friday night there will be a skills competition.
The boy's team will be coached by Mike Young, Tyler Briand and Chris Hitchcock of Dover, and Paul DiMarino and Henrik Barbin of Exeter. Both Young and DiMarino serve of the Legends Board of Directors The girl's team will be led by John Dodds, Tucker Garrity-Hanchett and Alex Dodds of Hanover and Jamie Long of Oyster River. John Dodds is in the NH Legends of Hockey Hall of Fame. To view the NH boy's roster click here and for the girl's click here.
Here's the link for this weekend-
https://www.dppgnetwork.com/watch-dppg
The skills competition, girls game, and boys game can all be seen LIVE & on-demand through their link as well as through their Roku channel.

All viewing options are free to watch live and on-demand through their website & Roku channel. There will be an option to download the film through the DP Production Group website at a minimal cost. Viewing through the DP Production website is always free.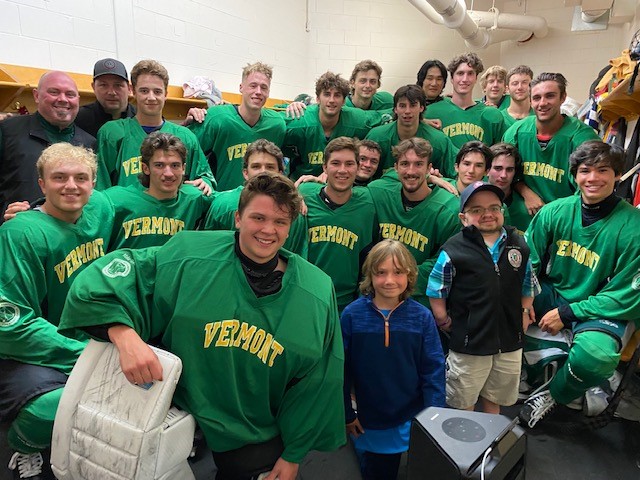 MAKE A WISH
Make-A-Wish began in 1980, when a seven-year-old boy in Phoenix, Arizona with leukemia expressed his wish to be a police officer. A group of officers from the Arizona Department of Public Safety granted his wish by giving him a custom-made uniform, helmet, badge and even a helicopter ride! The young boy's delight in having his wish granted inspired the group to form an organization which would grant the special wishes of other children.
Any child between 2 1/2 and 18 years of age who has been determined by their physician to have a life-threatening medical condition is eligible for a wish. Make-A-Wish grants wishes to eligible children regardless of race, religion or socioeconomic status.
The average cost a wish is more than $10,000. Money for these wishes is raised by fund-raising events such as the All-Star Hockey Classic and through the generosity of corporations and people in our communities.
Make-A-Wish® New Hampshire celebrates over 30 years of granting wishes to children battling life-threatening medical conditions. The chapter has granted over 1,600 wishes to date. Alex's wish for a synthetic ice hockey rink in his backyard makes this continued partnership all the more exciting, as we continue to strive to grant the wish of every eligible child in New Hampshire. For more information on the New Hampshire chapter, please visit www.nh.wish.org, find us on Facebook Make-A-Wish New Hampshire, follow us on Twitter @MakeAWishNH or give us a call at (603)623-9474.
Make-A-Wish® Vermont, established in 1989, grants wishes to Vermont children facing life-threatening medical conditions. The Vermont chapter's first wish was a trip for Bonnie, an 11-year-old girl, to meet her favorite television characters: Larry, Darryl, and Darryl of the Bob Newhart Show. Since that time, the Vermont chapter has granted the wish of every medically-eligible child referred to us, over 830 wishes to date. For more information on the Vermont chapter, please visit www.vermont.wish.org, like us on Facebook.com/makeawishvt, follow us on Twitter.com/MakeAWishVT, or call us at (802) 864-9393.