Legends Enshrine Five
Master of Ceremony Ken Cail and the New Hampshire Legends of Hockey Board of Directors inducted five new members into the New Hampshire Hockey Hall of Fame class of 2023, in front of a crowd of more than 300 family members, friends, dignitaries and other guests.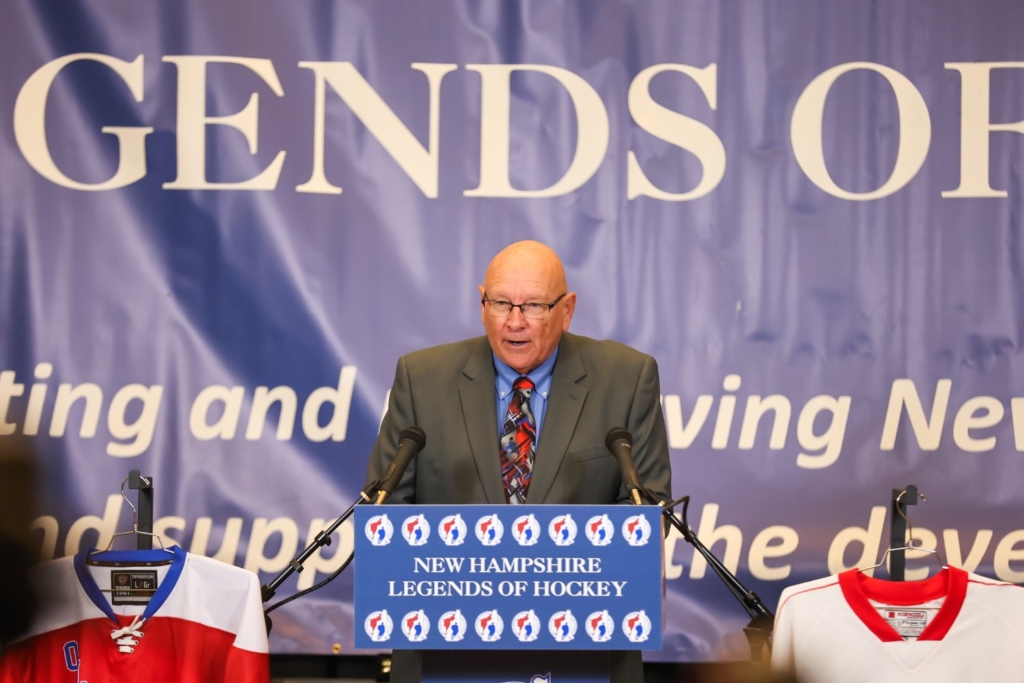 The Hall of Fame Induction Ceremony & Luncheon was held on October 22, 2023 at the Grappone Conference Center in Concord for the twelfth straight year.
It marked the NH Legends' twenty-first year hosting the event and the Legends also paid tribute to the history of the Concord Eastern Olympics Hockey Club.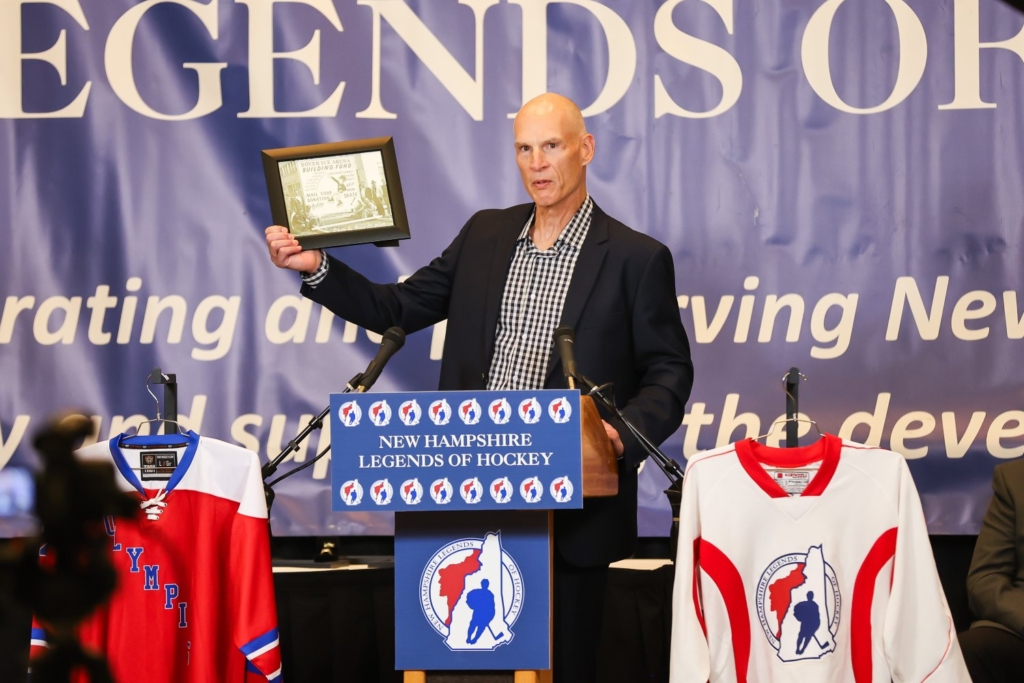 The Legends is a New Hampshire non-profit, 501(C)(3) organization dedicated to preserving New Hampshire ice hockey history, maintaining the state's Hockey Hall of Fame, and promoting the sport to New Hampshire's youth. Our Hall of Fame Induction event honors New Hampshire's hockey elite — men and women who have made significant contributions in New Hampshire as players, coaches, officials, builders, or media representatives.
Inducted into the 2023 Hall of Fame Class was Mick Mounsey, Nelson Hutchings, Dave Caron, Walter J. Nadeau and Paul D. Comeau, who is being inducted posthumously. To view the entire induction program click here.
During President Normand's address he welcomed and thanked everyone in attendance for supporting the 2023 Hall of Fame inductees and the Concord Eastern Olympics Hockey Club. "We are sure you will thoroughly enjoy the day, and if so, we hope you will return next year as a fan of hockey, play in our golf classic or consider donating as a Supporter".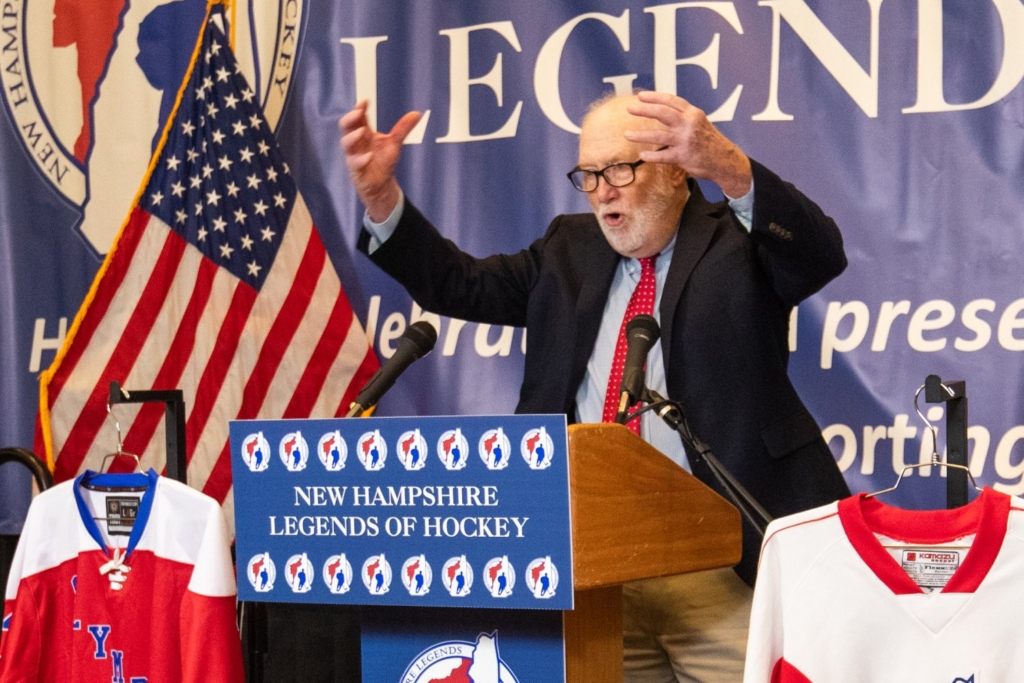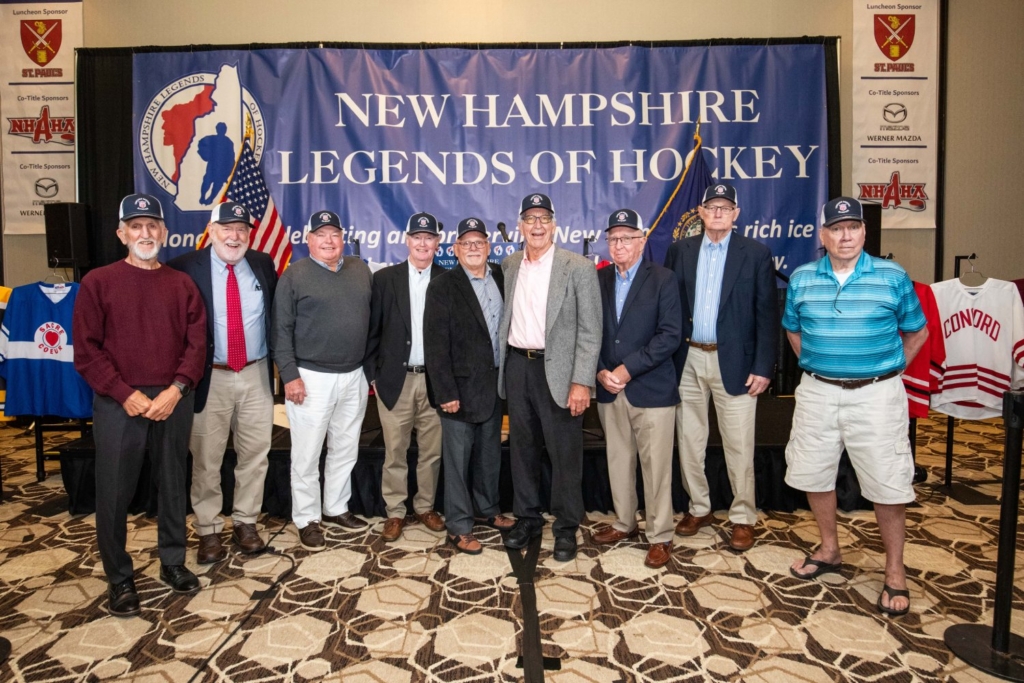 Concord Eastern Olympics: Leo Girouard; Tom Mechem; Bill Seabury; Steve Murphy; Roger Letourneau; Chuck Kyle; Bob Carr; Burns Hovey and Bruce Parker. Missing from photo Greg Wright and Dave Conte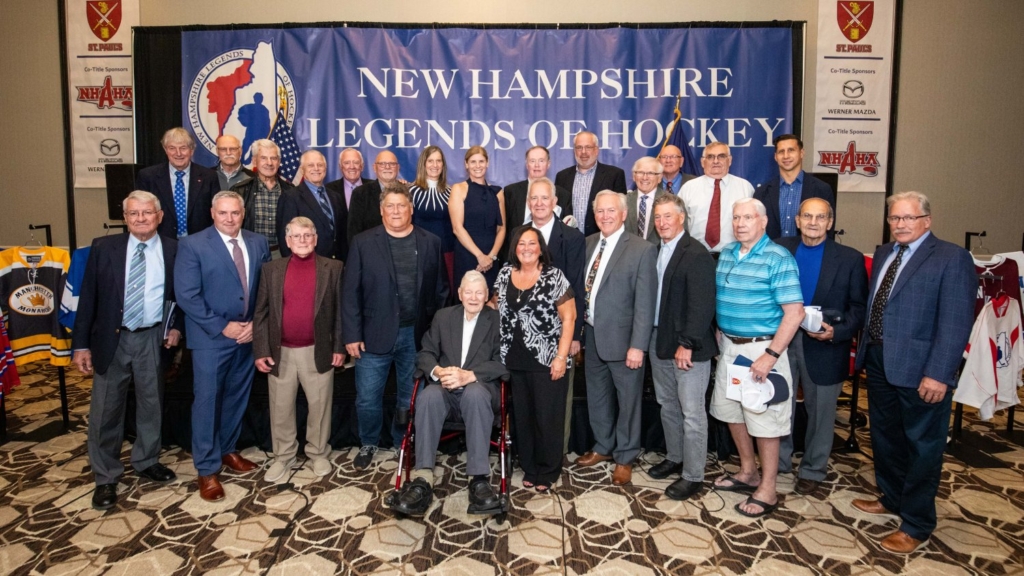 Hall of Famers in Attendance: Front Row L to R: Walter J. Nadeau; Mick Mounsey; Dick Boucher; Tom Moulton; Nelson Hutchings; Robin Comeau; Peter Maher; John Normand; Mark Evans; Bruce Parker; Dick Roy and Dave Caron. 2nd Row: Ken McKinnon; Ryan Brandt; Andre Prefontaine; Rene LeClerc, Rod Ross; Roger Letourneau; Julie Sasner Smith; Tara Mounsey; Steve Murphy; Chris Brown; Ron DeGregorio; Ken Cail; Gary Bishop and Jeff Giuliano. Missing from photo, Pierre Belanger, Merrill Fay, Dick Umile and Brian Murphy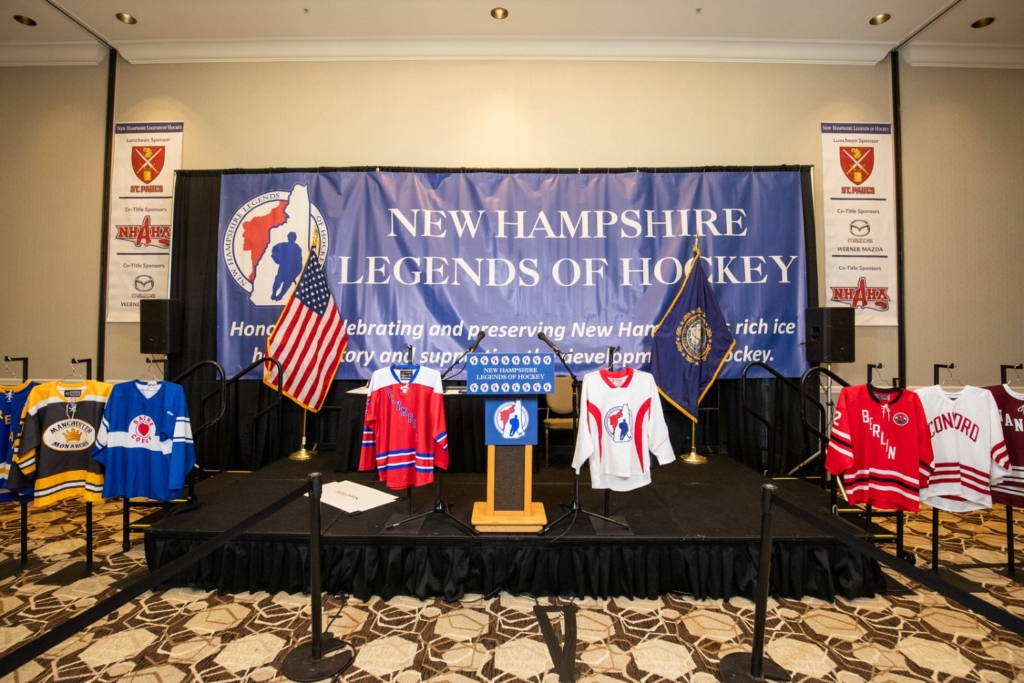 Normand offered special thanks to long-time Luncheon Sponsor St. Paul's School (Rector Kathy Giles), Co-Title Sponsors the NH Amateur Hockey Association and President Matt Roy & Bob Werner of Werner Mazda. Co-Social Hour Sponsors New Hampshire Distributors Tom and Chris Brown as the as well as the NH Mountain Kings and Ring Sponsor nucar Automotive Group and Shawn Hanlon.
He also thanked the thirty-four other sponsors who also helped make the Hall of Fame ceremony possible through their Gold, Silver, and Bronze-level sponsorships.
Gold Sponsors:
Banks Chevrolet-Cadillac, Inc.; Black Ice Pond Hockey Association; Brine – Capital Sporting Goods; Christian Party Rental; Corriveau Routhier Hockey; Fay's Boat Yard; Mason + Rich, P.A., C.P.A.; Merrimack County Savings Bank; Brett Houston and NEEBCo; Northeast Delta Dental; Sleepnet Corporation; Speedy Printing and Copying; The Rinks at Exeter; The Rowley Agency Inc. and Vachon Clukay & Company PC.
Silver Sponsors:
Berlin City Auto Group; L.A. Brochu, Inc.; Club National; Cusa Consulting, LLC; Deco Systems Inc.; EVR Advertising; Milestone Engineering & Construction; Morgan Storage; Northway Bank; PretiFlaherty; Ray's Electric; Rene LeClerc Insurance Agency; Triplet Computers, LLC and The Weston Family.
Bronze Sponsors:
Alpine Club; Granite State Capital Management; Granite State Glass; LFS Tax Group, LLC and Town & Country Inn and Resort.
Photographs of Induction Ceremony were taken by Matt Parker Photography and are posted on his website. Click here to view and/or purchase photographs of the Induction Ceremony. Photographs purchased will be sent directly to your address.

President John Normand announced the team which will be honored next fall. The NH Women's Select Youth Hockey team will be honored at the 22nd Hall of Fame Induction Ceremony scheduled for Sunday October 20, 2024 at the Grappone Conference Center in Concord.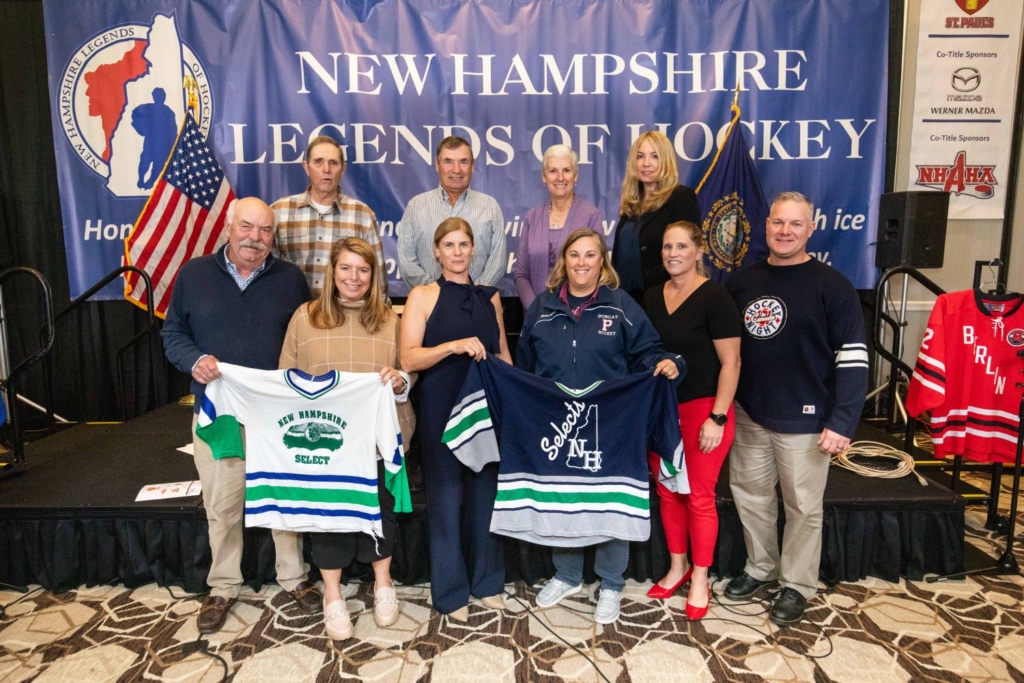 If you'd like to become a sponsor next year, please email hayes743@comcast.net or call Jim Hayes at 603-731-4168. Click here to review the 2023 Sponsorship Opportunity Form if you are interesting sponsoring next fall.
2023 Nominations with appropriate documentation can be submitted on-line beginning January 1 and continuing through the end of February.
Video of Induction Ceremony can be purchased before the end of the year, by contacting Bryant Ragus (Spotlight Video Productions) at info@videonh.com The video will be available on a memory stick and has both the Induction Ceremony as well as pre-event interviews may be purchased for $15.00 through Spotlight Video Productions in Manchester, NH. (www.videonh.com)