High School Hockey News
NHIAA Championships
On Saturday, eight teams will arrive at the SNHU Arena in Manchester, hoping to be crowned State Champion of their respective division. Here's a look at the championship match-ups – and the best of luck to each team.
Division I 5:00 pm
# 3 Bedford versus # 5 Trinity
Division II 2:45 pm
# 1 St. Thomas Aquinas versus # 2 Dover
Division III 12:15 pm
# 1 John Stark-Hopkinton versus # 2 Mon-Fall Mountain
Girls Division 10:00 am
# 2 Exeter versus # 5 Hanover

*Please verify start times
Senior All-Star Doubleheader
On Sunday March 17th, the New Hampshire Legends of Hockey will host two Senior games at The Rinks at Exeter. The New Hampshire High School Hockey Coaches Association selected seniors last week to participate in the two games. The first game is for Division III seniors and is scheduled to start at 12:00 pm.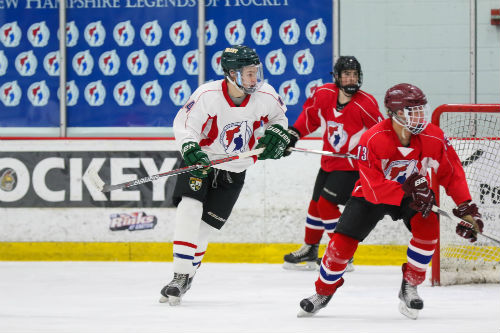 At the 12:15 pm game, seniors from D I and II will compete against one another in their last high school game of their career. Players should arrive one hour prior to their game. Ticket prices are $5.00 for all adults high school is $2.00.
The Coaches will select a team from the 12:15 pm game to play in the Make A Wish game versus Vermont this summer.
The Legends are providing certificates to all senior players. Certificates will be distributed at a post-game reception after each senior game on Sunday March 17th.
All-State Teams Announced
In addition, All-State Teams were selected last week by the New Hampshire High School Hockey Coaches Association and for the ninth year, the Legends will provide certificates for each member of the various All-State teams.
In addition, for each division, the Legends awards certificates to the Player-of-the-Year and Coach-of-the-Year. Click here to view the 2018-19 All-State recipients.
For those underclassmen and girls not in attendance, those certificates will be taken to their schools by coaches or players in attendance and brought to your athletic director for disbursement.