2019 Senior All-Star Doubleheader Results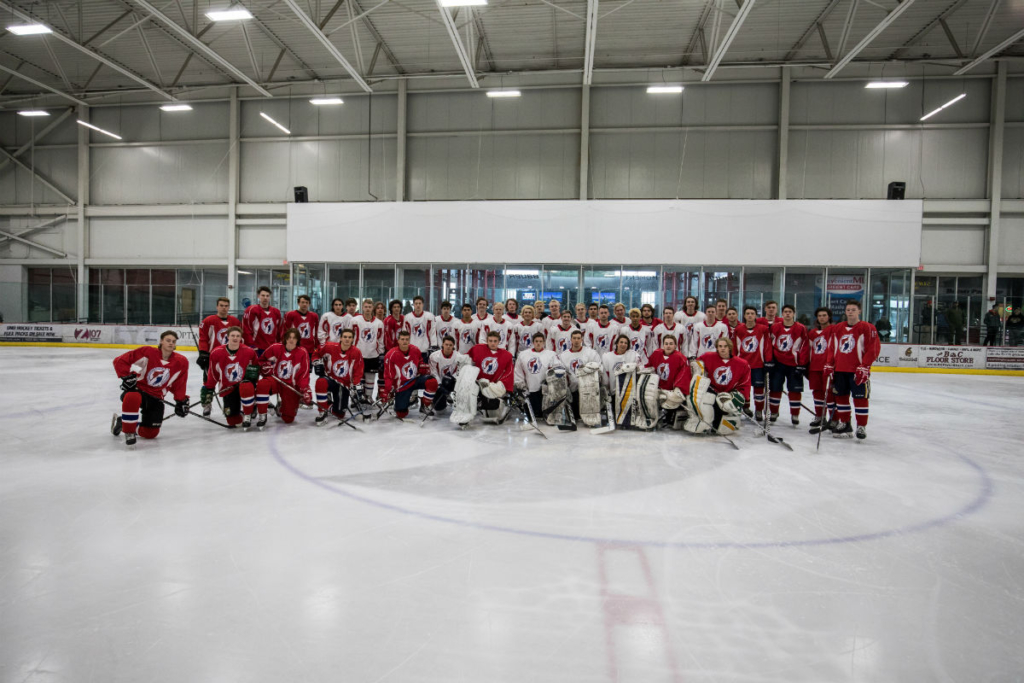 Exeter, NH – On Sunday March 17th, at the Rinks of Exeter, the New Hampshire Legends of Hockey ("Legends") hosted both of the boy's Senior All-Star Classic Hockey games.  The 12:00 pm game was for Division III players only while the 12:15 pm game featured the very best players from Division I and II and two terrific games were played in front of several hundred family and friends.
This Legends event was sponsored by New Hampshire Distributors (NHD) of Concord. NHD also provided post-game product samples for each player from Bang (potent brain and body fuel) and Sparkling Ice. Click to open Division III program and Division I/II program.
Participating seniors were selected by the New Hampshire High School Hockey Coaches Association. At the conclusion of each game, a reception hosted by the Legends took place in the lobby of the Rinks of Exeter for players and their families. All senior players were announced individually by teams and received a certificate for their selection to the Senior All-Star Classic from John Normand President of the Legends.
In addition, Normand announced the All-State selections as the players came forward. For the ninth straight year, the Legends provided certificates for each member of the various All-State teams. In addition, for each division, the Legends awarded certificates to the Player-of-the-Year and Coach-of-the-Year. Those individuals were selected by the NH High School Hockey Coaches Association and those All-State certificates were mailed out Monday afternoon to the Athletic Directors.
To view the complete list of this year's All-State recipients Click Here.
In the Division III game, an open net goal with 4 seconds to go sealed the win for the players dressed in their team's white jerseys 5-3 over Team Dark. Goals against were tracked but not saves in this game. For the winner, Mattieux Tremblay of Pembroke-Campbell started the game and let up one goal, next up was Hunter Sanders of Moultonborough-Inter Lakes and Jameson Bourque of John Stark-Hopkinton shut down the opponents in the last stanza. For the opponents, Trent Labrecque of Berlin split the duties with Isaac Kaskinski of Monadnock-Fall Mountain and allowed three and one goal respectively.
In the Division I & II game, it went to overtime but in the end, remained tied and finished in a 5-5 draw. Dakota Robinson of Pinkerton started in goal for Team Red and stopped all seven shots he faced, next up was Nate Pushey of Bishop Brady and Nate stopped seven of nine shots and Matt Strickland of Bishop Brady finished up, allowing three goals while stopped seven. Leading off for Team White was Cameron Donovan of Londonderry who made four of five saves, Chris Eno of St. Thomas Aquinas made thirteen saves while allowing four goals and Nathan Carrier of Bow stopped all eight shots he faced. Offensive highlights Team Red were provided by five players: Gennaro Marra of Pinkerton and Brendon Banks of Pinkerton; Tyler Blood of Exeter and Ryan Huppe of Exeter (along with three assists) and Cam Larivierre of Concord. For Team White offense was provided by two goals apiece from Jack Sylvain of Bedford and Max Carpenter of Oyster River while Kambal Vaidya of Bedford had one.
Many thanks to the following DI and DII coaches for their time and effort. Jim Tufts – Exeter, Dan Belliveau – Merrimack, Peter Bedford – Londonderry, Sam Littlefield – Pinkerton, Peter Harwood – Oyster River, Mike Young – Dover, Bill Widi – Portsmouth-Newmarket, Mark McGinn – Salem, Marty Myers – Bedford, Tom Ferguson – Portsmouth-Newmarket, Jon Ellis – Spaulding
In addition, our thanks go out to the DIII coaches for their time and effort to help make this event a successful one: Denis Kolehmainen of John Stark-Hopkinton and Mike Poulin of Berlin as well as Kevin Merrick of Sanborn and Marc Bourque of John Stark-Hopkinton. We do apologize if any of the coaches were not recognized.
After the 12:15 game, Coaches convened to select players to represent New Hampshire in the Annual Make a Wish game against Vermont this summer. The boy's and girl's game will be held at the Gutterson Field House on Saturday June 29th against the Vermont team. Players will once again be adorned in the New Hampshire Legends of Hockey uniforms. The girl's will play at 4:00 pm and the boy's game is scheduled to start at 6:30 pm. The Coaches for the Vermont game should be contacting the players over the next week or so.
To view or to purchase any of the photographs from Matt Parker Photography CLICK HERE.