Ben Lovejoy to Bring Stanley Cup to Hanover
Ben Lovejoy to Bring Stanley Cup to Thompson Arena on Aug. 1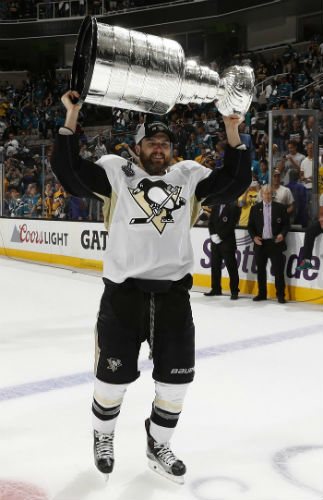 HANOVER, N.H. – Ben Lovejoy '06 will be bringing the Stanley Cup to Thompson Arena on Monday, August 1 at 5:30 p.m. as part of his day with the trophy.
The former Dartmouth men's hockey defenseman who won the Stanley Cup with the Pittsburgh Penguins in mid-June will use a portion of his personal time with the Cup to host a FREE event inside the Big Green's home rink.
"The best part about winning the Cup is being able to share it with everyone who has helped me along the way," Lovejoy said. "Getting to the NHL was a team effort, so many people worked so hard to get me where I am now".
"I am so excited to bring the Stanley Cup to New Hampshire and the Upper Valley to share it with everyone," Lovejoy added.
Lovejoy – the first New Hampshire-born player ever to win the Stanley Cup – will be posing for pictures with fans and hockey's top prize, as well as signing autographs.
FREE autographed posters of Lovejoy from both his college days at Dartmouth and his time in the NHL will be given away to those in attendance.
Current members of the Big Green men's hockey team and head coach Bob Gaudet '81 will also be there to talk with fans about the upcoming 2016-17 season.
More information regarding the Stanley Cup's visit to Thompson Arena on Aug. 1 will be announced in the near future, so please check back with DartmouthSports.com.