2018 All-State Prep Teams Announced
The Prep School Hockey Coaches of New Hampshire announced their 2017-18 All-State selections for both the boys and girls divisions. The eight prep schools in New Hampshire are: Brewster Academy; Holderness School; Kimball Union Academy; New Hampton School; Phillips Exeter Academy; Proctor Academy; St. Paul's School and Tilton School.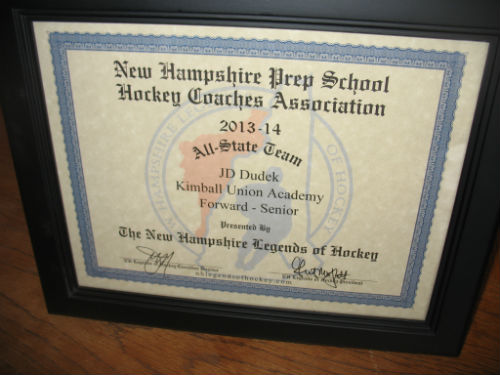 Mike Walsh, head coach of Proctor Academy said "we are pleased to continue our partnership with the NH Legends of Hockey". The Legends have provided certificates signed by their President John Normand and Executive Director, Jim Hayes. The certificates were mailed to the Athletic Directors this week.
Click here to view Boy's and Girl's All-State Teams
Tournament Results for NH Schools
Boy's Hockey
QuarterFinals:
#3 Kimball Union 3, #6 Phillips Exeter 0 — KUA senior G Sean Dynan had a 20-save shutout and Andranik Armstrong, Jordan Harris and Thomas Samuelsen (ENG) scored for KUA. Exeter sophomore G Ryan Welch (38/40) was the hard-luck loser. KUA travels to Rivers for a semifinal matchup Saturday.
#4 New Hampton 3, #5 Millbrook 0 — Lukas Uhler (2g,1a)  figured in all three of New Hampton's goals, and Michael Kane (1g,1a) added two points. Junior G Matt Sayles (29/29) came through with the shutout. Millbrook junior G Cam Fernanadez (32/35) took the loss. New Hampton travels to Winchendon on Saturday (4:00 pm).
Semifinals:
KUA 2 @ Rivers 1 — With 29 seconds remaining in overtime, a goal by sophomore Zach Whitehead, off a perfect pass from junior Seth Stadheim, lifted Kimball Union Academy to a 2-1 win over host Rivers in an Elite 8 semifinal here today.
New Hampton 3 @ Winchendon 2 — New Hampton never trailed in this one, taking a 2-0 lead in the second period on goals from Joe Dunlap and Michael Kane. Winchendon made it a one-goal game on a Cam Gendron tally early in the third, but New Hampton got it right back with a James Hatzepetros goal at 12:44. Winchendon made it a one-goal game again on a Ville Rainio goal with 41 seconds remaining. Matt Sayles (30/32) was the winning goaltender; James Corcoran (33/36) took the loss. New Hampton will face Lawrence Academy for the small school crown at noon tomorrow.
Championship:
KUA 3 vs Salisbury 2  #1 Salisbury scored first and last, but in between #3 Kimball Union Academy scored three straight goals — two by senior Andranik Armstrong — to take a 3-2 win here tonight and repeat as NEPSAC champions.
Lawrence 5 vs  New Hampton 4 — Lawrence sophomore Gunnar Fontaine, from Braden Doyle and Drew Bavaro, scored a power play goal at 7:22 of overtime to lift Lawrence Academy to a 5-4 win over New Hampton and the 2018 Small School Championship here today.
All NEPSAC TEAM EAST
Forward:
Jay O'Brien – Senior Thayer
John Farinacci – Junior Dexter
Matt Fawcett – Senior Winchendon
Neil Shea – Senior Lawrence
Andranik Armstrong – Senior Kimball Union
Teddy Wooding – Senior Rivers
Aiden McDonough – Senior Thayer
Defensemen:
Jack Rathbone – Senior Dexter
Jordan Harris Senior Kimball Union
Nolan McElhaney – Senior Cushing
Jayson Dobay – Senior Thayer
Goaltender:
Aidan Porter – Senior Rivers
Eric Green – Senior NMH
Girl's Hockey
Kimball Union Academy (KUA) was a finalist in the Lakes Region Championship game this year and earned #7 seed to advance to the NEPSAC DII Quarterfinal game. The Lakes Region final standings were: VT Academy, KUA, New Hampton, Proctor, Tilton, Holderness, and Brewster.
NEPSAC DI Playoffs
#5 St. Paul's traveled to #4 Loomis Chaffee for the New England Quarterfinal game. Loomis won that game to advance to the semi-finals.
NEPSAC DII Playoffs
#7 KUA traveled to #2 VT Academy for the New England Quarterfinal game. VT Academy won that game to advance to the semi-finals.
2018 NEPSIGHA All-NEPSAC DI Team:
Forward:
Gillis Frechette – St. Paul's School
Savannah Norcross – New Hampton School
Defense:
Lauren DeBlois– New Hampton School
2018 NEPSIGHA All-NEPSAC DII Team:
Forward:
Mia Brown – Kimball Union Academy
Honorable Mention Team:
Forward:
Molly Flanagan – Kimball Union Academy
Mackenzie Mallett – Proctor Academy
Kiara Vazquez – Proctor Academy
Goalie:
Marina Mirabella- Proctor Academy