2021 Golf Classic – An Overwhelming Success
Well, seven-hundred and thirty-five days later, the board of directors held their fifteenth NH Legends of Hockey Golf Classic on July 16 at Stonebridge Country Club in Goffstown.
The event was kicked off with a message from John Normand, President of the New Hampshire Legends of Hockey (Legends). John asked to have a moment of silence and join us in remembering our Hall of Fame member(s) who have passed since our 2019 Golf Classic. Red Gendron, Seaver Peters and Dick Bradley as well as other hockey friends who have passed away. Former board members Father Robert Marchand and Paul Comeau – Paul Leonard, Leo Callahan, Ryan Frew and JM Sahr.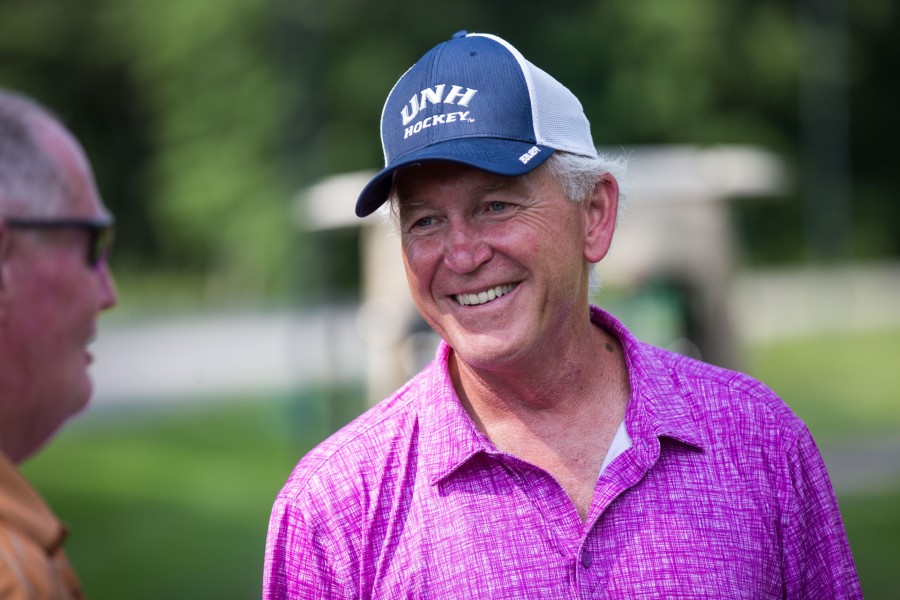 One hundred and twenty-eight players enjoyed a wonderful (but humid, but escaped any rain) day. We received thirty-one generous sponsorships lead by St. Paul's School and Eastern Propane & Oil. In addition, ninety-three individuals and businesses donated wonderful certificates for our raffle and auction, all of which made our Golf Classic an overwhelming success.
Photographs
Six-hundred and twenty-two photographs taken by Matt Parker Photography can be viewed at no charge and any can be purchased for a nominal fee. Please visit his site by clicking here. You may enter your name in search bar to view photos. There is a small sample of photos at the bottom of this article.

Click here to view our thirty-one sponsors. Click here to view the ninety-three businesses and or individual's who donated gifts in kind to our golf classic.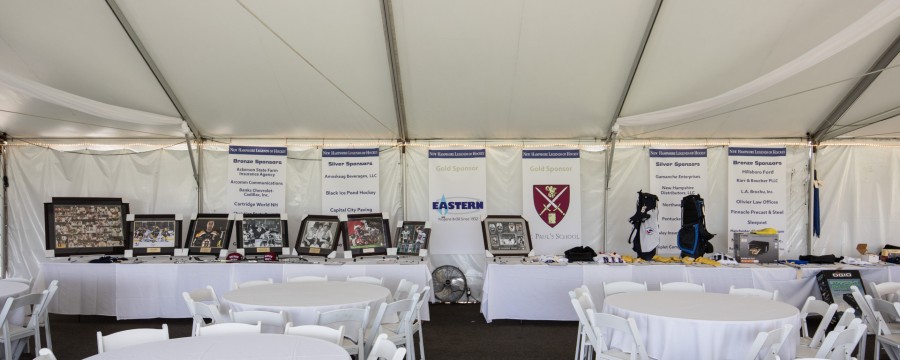 If you, or someone you know would like to sponsor or donate Gifts in Kind next year, please email Jim Hayes hayes743@comcast.net to discuss that opportunity.

John acknowledged one individual from the Class of 2021 who will be inducted October 24 at Concord's Grappone Center at the Nineteenth Legends of Hockey Induction Ceremony. With us today is Brian Murphy who retired this past spring as an NHL official. Click here to read a press release for the five incoming Hall of Famers.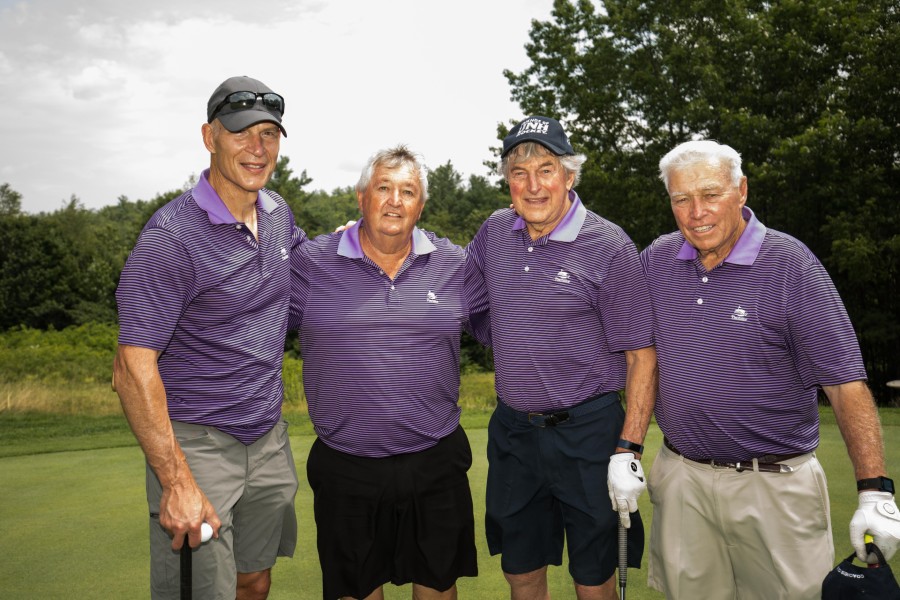 The hockey history of boy's and girl's teams at Exeter High School will be honored and lastly, the Stanley Cup is tentatively scheduled to be at our event.
In addition to himself, John acknowledged and welcomed each of the Hall of Famers in attendance. Those included: Dick Boucher; Ryan Brandt; Dick Dodds; John Dodds; Mark Evans; Bob Gaudet; Leo Gould; Rene LeClerc; Denis Martin; Ken McKinnon; Steve Murphy; Bruce Parker; Dick Ryerson and Rich Ryerson.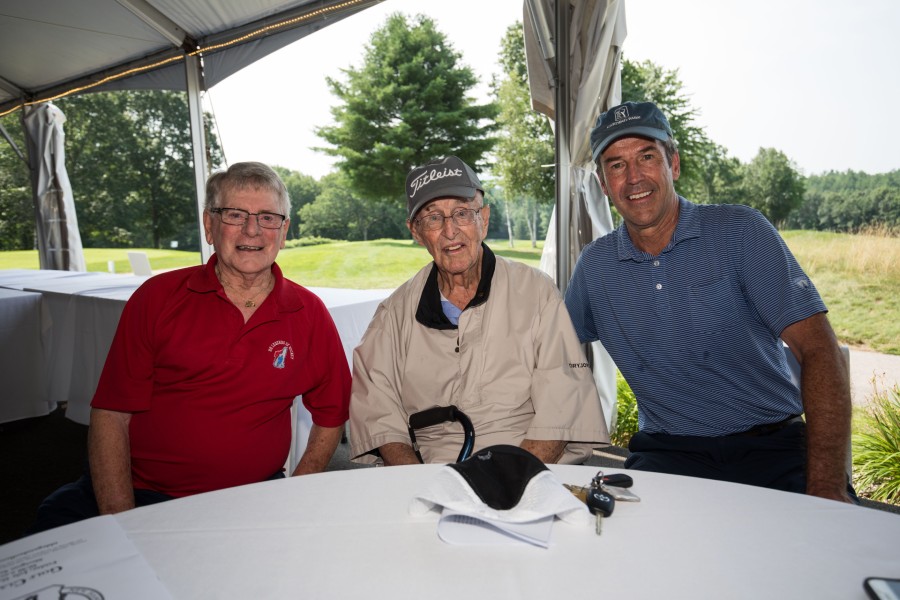 Volunteers
Our volunteers worked very hard all-day long keeping the registration, raffle and on course contests running smoothly. Many thanks again: to Terry Marcille; Jean Mathieu; Jack Mudge; Steve Murphy; Nancy Swenson; Joanie Vallieres; Joe Wade as well as board members Pierre Belanger, Eric Swenson and Dan Zapton.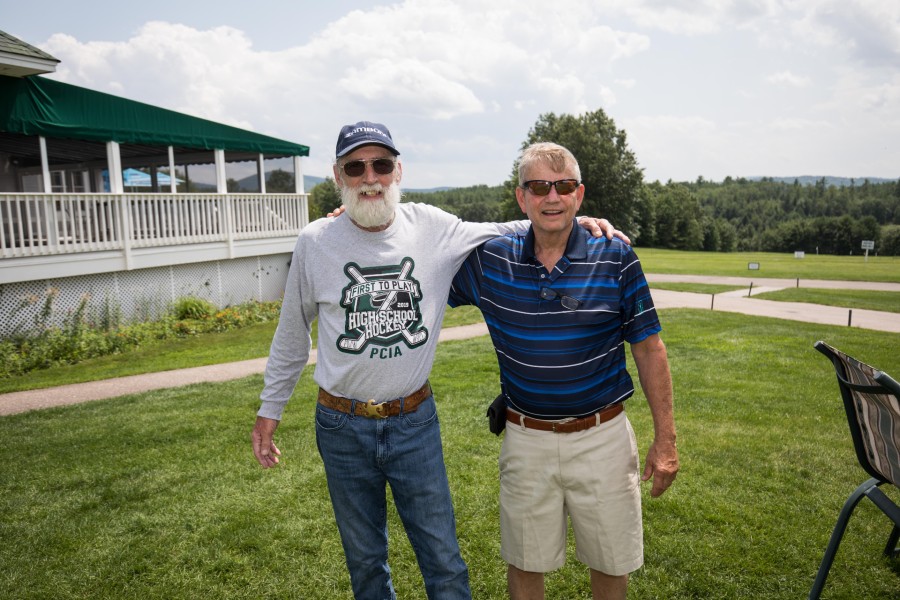 The following board members got a chance to play, but also volunteered many hours to help make this event a great success: Peter Bedford; Dave Corriveau; Mike Gould, Jim Hayes; Roland Martin; John Normand; Dwayne Robinson and in addition, on the "Scott Citroni Hole", Hole 4, board member Eric Swenson led the volunteers which included Ron Mercier and his son Brayden from the Laconia Youth Hockey Association and on Hole 6 Steve Murphy led volunteers Ange Duquette and April Bledsoe from Berlin Youth Hockey Association. A portion of the funds raised will go to fit players with equipment packages from head to toe this year.
2021 Champions
Congratulations to our Champions, Bob Oziomek, Mark Bozek, George Chase and Tim Pratt took home the title this year with a 15 under 57.
Second place was awarded to Tom Brown, Chris Brown, Paul Cormier and Adam Schmidt. Third place went to Mark Evans, Allen Mason, Paul Smolak and Ricky Shelton.
On Course Contests
Longest Drive All # 1 – Vic Stanfield
Closest to the Line #2 – Ken McKinnon 2"
Closest to the Pin # 4 – Rick Shelton 9'8"
Closest to the Pin # 6 – Parker Mabbett 2'8"
Closest to the Pin # 13 – Tom Smith 3'2"
Closest to the Pin # 16 – Tom Brown 8'2"
Closest to the Pin #18 Second Shot – Chris McLaughlin 4'8"
* Putting Contest Champion – Dave Kuhman
* In a putt-off against Fred Schaake, Steve Mathieu and Dennis Sahr, Dave was crowned Champion and took home $100 cash and a Ray Cook putter (donated by Brett Houston of NEEBCO).
All Champions
2021 – Mark Bozek, George Chase, Bob Oziomek, Tim Pratt
2019 – Lee Blossom, Ryan Sahr, Mark Placy and Don Steenbeke Jr.
2018 – Mike Desmond, Mike Bayer, Jason Bergeron, Scott O'Neil
2017 – Lee Blossom, Ryan Sahr, JM Sahr, Scott Towle
2016 – Lee Blossom, Mark Placy, Ryan Sahr, JM Sahr
2015 – Rene LeClerc, Pete Ackerson, Steve Grzywacz, Dave Kuhman
2014 – Todd Philbrick, Tom Otto, Jim Corbett, Jerry Collins
2013 – Dick Dodds, John Dodds, Scott Peters, Dean Cashman
2012 – Chris Chisholm, Jim Hayes, Ray Martin, Pat McNicholas
2011 – Casey Kesselring, Jeff Graham, Mike Beliveau, Trevor Smith
2010 – Chris Chisholm, Jim Hayes, Ray Martin, Pat McNicholas
2009 – Mike Castagna, Paul Lemire, Doug Leppart, Doug Snyder
2008 – Chris Chisholm, Jim Hayes, Ray Martin, TJ Whitelaw
2007 – Mike Castagna, Mike Ladouceur, Johnna Lory, Rich Tombs
2006 – Ken Roberge, Mike McGinn, Glen Williams, Dwayne Robinson

2022 Golf Classic
Mark your calendar now for next year's Golf Classic scheduled for Friday July 15, 2022.
Photo Gallery
Click here to view all photos.
To view the tournament program click here.