2020-2021 High School Hockey State Championships
The New Hampshire Legends of Hockey wish all 16 teams competing in the State Championships the best of luck!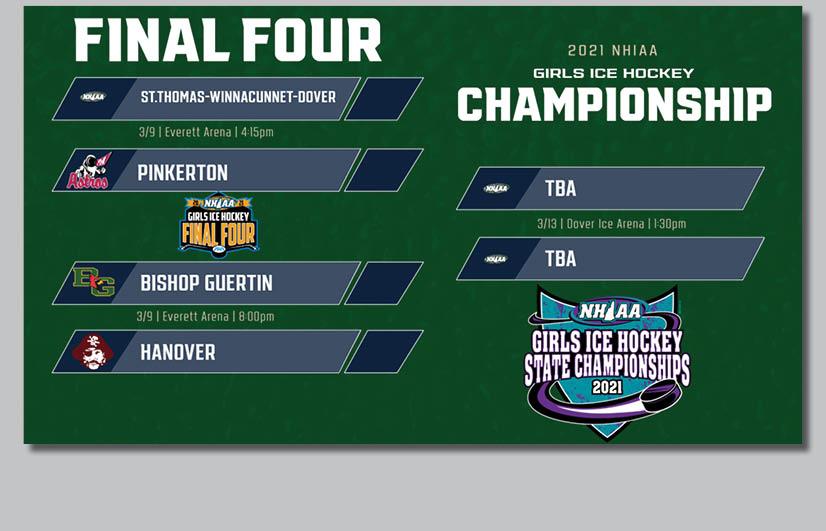 New Hampshire Girls HS Hockey: Bishop Guertin-Hanover, St. Thomas/Winn./Dover-Pinkerton Face Off Tuesday In State Semifinals
The New Hampshire Interscholastic Athletic Association is now down to four teams that will play in state semifinal games Tuesday at Everett Arena in Concord.
The first semifinal will pit undefeated St. Thomas/Winnacunnet/Dover against Pinkerton at 4:15pm and Bishop Guertin against Hanover at 8:00pm.
For more information please visit: New Hampshire Girls HS Hockey: Bishop Guertin-Hanover, St. Thomas/Winn./Dover-Pinkerton Face Off Tuesday In State Semifinals – HNIB News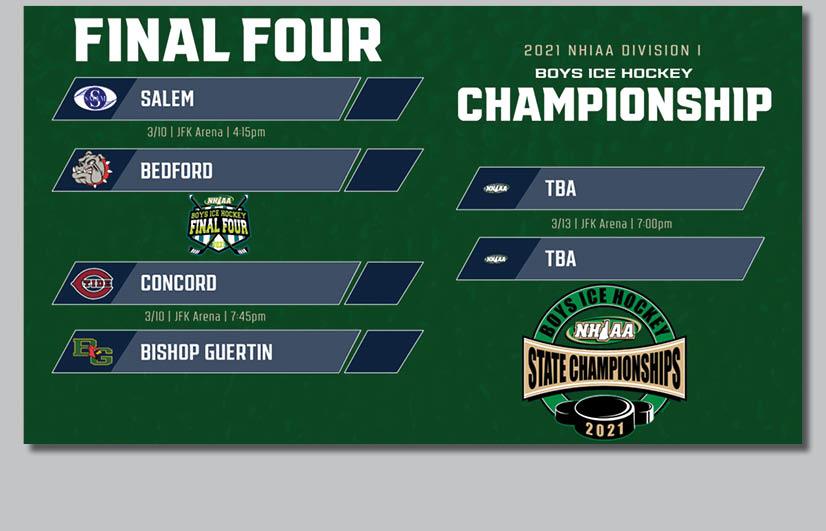 New Hampshire Division 1 Boys Tournament: Salem, Concord, Bedford, Bishop Guertin Advance To State Semifinals
STATE SEMIFINALS
Wednesday, March 10, JFK Arena
Salem vs. Bedford, 4:15 pm
Concord vs. Bishop Guertin, 7:45 pm
For more information please visit: New Hampshire Division 1 Boys Tournament: Salem, Concord, Bedford, Bishop Guertin Advance To State Semifinals – HNIB News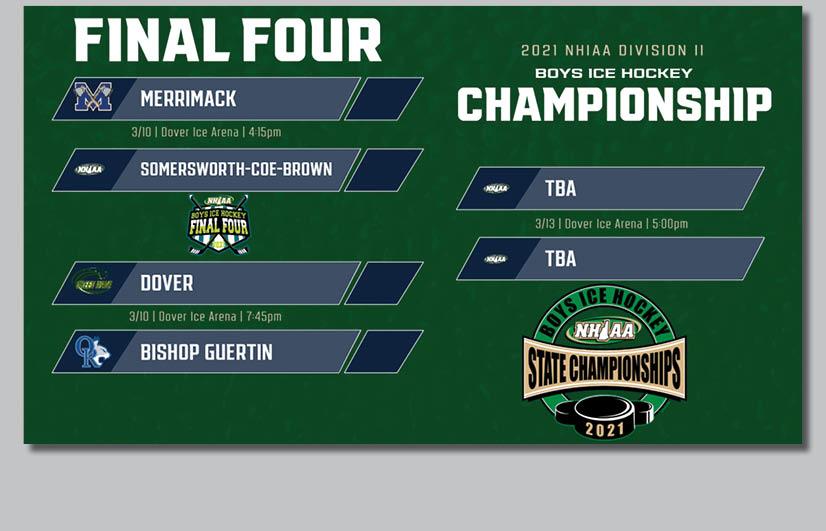 New Hampshire Division 2 Boys Tournament Highlights: Merrimack Stuns Manchester Memorial; Dover, SCB, Oyster River Move On
STATE SEMIFINALS
Wednesday, March 10, Dover Ice
Region 1 winner vs. Region 3 Winner, 4:15 pm
Region 2 winner vs. Region 4 winner, 7:45 pm
For more information please visit: New Hampshire Division 2 Boys Tournament Highlights: Merrimack Stuns Manchester Memorial; Dover, SCB, Oyster River Move On – HNIB News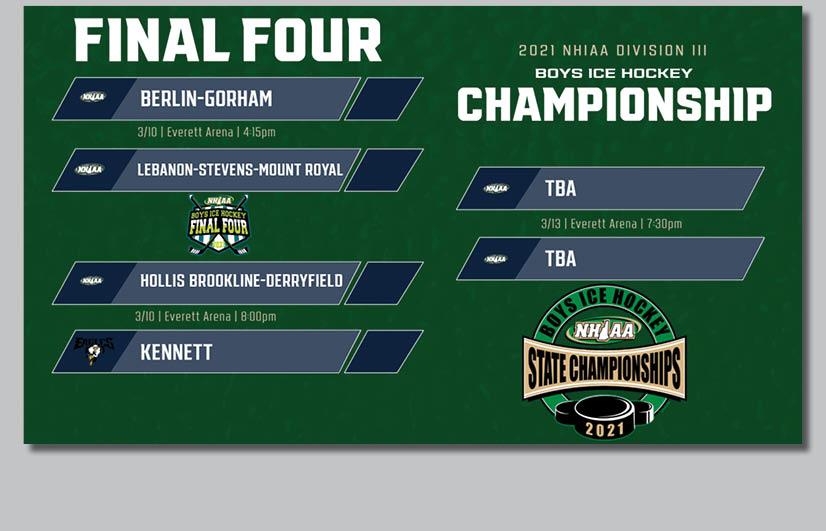 New Hampshire Division 3 Boys Tournament Highlights: Berlin/Gorham, HBD, LSMR And Kennett Headed To The Semifinals
STATE SEMIFINALS
Wednesday, March 10, Everett Arena
Berlin/Gorham vs. Lebanon/Stevens/Mount Royal, 4:15 pm
Hollis-Brookline/Derryfield vs. Kennett, 8 pm
For more information please visit: New Hampshire Division 3 Boys Tournament Highlights: Berlin/Gorham, HBD, LSMR And Kennett Headed To The Semifinals – HNIB News