2019 Nominations Open January 1st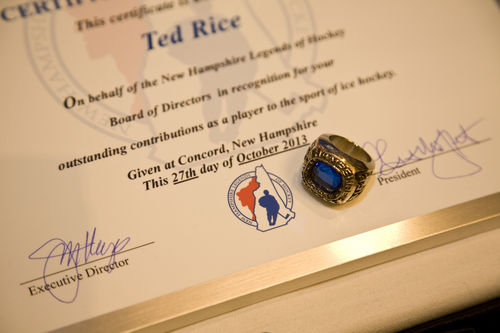 The Legends Hockey Hall of Fame was established to recognize and honor those men and women who have made significant contributions to sport of ice hockey in New Hampshire by their participation as Players, Coaches, Builders, Officials or as members of the Media. Through our first sixteen years, one hundred and thirty-four deserving individuals have been inducted into the Hall of Fame.
If you know of anyone you feel may be a qualified Hall of Fame candidate, the Legends committee encourages you research and submit a nomination form for consideration of this high honor in any one of the above categories.
NH Legends of Hockey Policies and Procedures for Nomination states, "It is important that any nominee be of high moral character and the Induction Committee and Board of Directors shall consider such matters when considering candidates for induction."
ELIGIBILITY FOR INDUCTION
To be eligible for induction in the Player category, the individual must: a) have been born or raised in New Hampshire and played ice hockey at an exemplary level; or b) while an active player, have made a significant contribution to the sport of ice hockey in New Hampshire.
To be eligible for induction in non-player categories, the individual must: a) have made significant contributions to the sport of ice hockey in New Hampshire: or b) have made significant contributions to the sport of ice hockey while residing in New Hampshire.
In addition, each individual's contribution may be different. Also to be considered will be the nominee's ability, sportsmanship or character, or a combination of these qualities.
Nomination Form
Nominations must be received prior to March 1, 2019.
If you are using Chrome, you may experience a problem. Please use alternate web browser.
Type your information into the form and save on your desktop. You should print a copy for your own records, then email Jim Hayes hayes743@comcast.net the completed form. In addition, click on Submit form on the top right.
Selected individuals will be recognized at the next annual Hall of Fame Induction Ceremony. This fall, the Legends will also be honoring the Alpine Club which played in the 1960's.
We have included a copy of the Sample Nomination Form for Sandy Sistare which was submitted by Jane Kalinski. This should help you with your nomination process.
If you have questions or need assistance with the nomination process, please contact any one of the New Hampshire Legend's board of directors who are listed on the web site. You may also contact our Executive Director, Jim Hayes, at hayes743@comcast.net or 603-731-4168.
If you do not have Adobe Reader you can download it here. http://get.adobe.com/reader/
Lastly, please visit our NH Legends of Hockey Facebook Page and "Like Us" to receive our upcoming Facebook posts.