Seven New Members Join the Hall of Fame
Master of Ceremonies, Bob Norton, and the New Hampshire Legends of Hockey Board of Directors inducted seven new members into the New Hampshire Hockey Hall of Fame, as a record crowd of more than 220 family members, friends, dignitaries, and guests looked on.  The Legends also paid tribute to Nashua Royals who played from 1948 through the 1966-67 season.  The Hall of Fame Induction Ceremony & Luncheon was held on October 25, 2015 at the Grappone Conference Center in Concord and marked the NH Legends' fourteenth year hosting the event.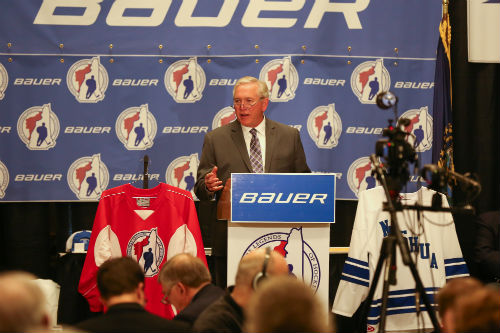 President John Normand welcomes the crowd
John Normand, current President of the Legends' Board of Directors, welcomed the large audience and thanked them for supporting the 2015 Hall of Fame inductees and the Nashua Royals. Normand offered special thanks to Bauer Hockey, whose Global Headquarters is in Exeter, NH.  It marked the fourth straight year that Bauer has been the Presenting Sponsor of the Hall of Fame event, and Normand thanked Bauer for its continuing support of the Legends' mission.  Normand also recognized significant financial contributions from Vachon Clukay& Company, PC. and St. Paul's School the Co-Title Sponsors; and New Hampshire Distributors, Inc. which again hosted the pre-event Social Hour.
Normand also thanked the 31 other sponsors who helped make the Hall of Fame ceremony possible through their Gold, Silver, and Bronze-level sponsorships.  Those sponsors are:
Gold Sponsors: Banks Chevrolet-Cadillac, Inc; Bellavance Beverage Company, Inc; Christian Party Rental; Fay's Boat Yard; Great State Beverages, Inc. and Speedy Printing & Copying
Silver Sponsors: Amoskeag Beverages, LLC; API of NH; Bogacz Photography/Digital Media; Brine & Capital Sporting Goods; Capital City Paving; Corriveau-Routhier, Inc; De Niro Construction; Holloway Motor Cars of Manchester; Milestone Engineering & Construction; Morgan Storage; PretiFlaherty; Pro Ambitions; Rene LeClerc Insurance Agency Inc. and Triplet Computers.
Bronze Sponsors: Central Paper Products Co.; Dwyer, Donovan & Pendleton; EVR Advertising; Granite State Glass; Label Tech, Inc.; L.A. Brochu, Inc; Law Offices of Roland E. Olivier, PLLC; Legacy Financial Solutions; Northway Bank; Town and Country Motor Inn and Zero Waste.
State Senator Lou D'Alessandro, longtime Legends supporter, and a former Legends Board member delivered a letter from The Honorable Governor Maggie Hassan and delivered State Senate Resolutions and State of New Hampshire Citations honoring the Hall of Fame Class of 2015 and the Nashua Royals.
Concord Mayor, Jim Bouley, extended a welcome on behalf of the Capital City and briefly traced the history of ice hockey in the City of Concord, from the first hockey game played in 1883 at St. Paul's School to the more recent Black Ice Pond Hockey Championship at White Park.  Bouley remarked that the Black Ice event will be held at Concord's White Park again this year in late January, and he encouraged everyone to attend.
Those attending the luncheon saw a 5-minute highlight of the Black Ice Pond Hockey documentary which was produced by Jeff Reagan on Concord.  Anyone wishing to purchase the 16 minute documentary can contact Jeff at jeffreagan@gmail.com or 603-568-9932.  Copies are $5.00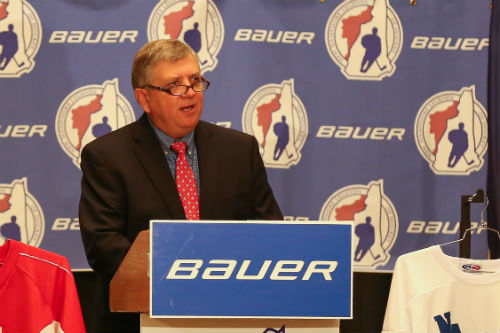 Key Note Speaker Joe Bertagna

Hockey East Commissioner Joe Bertagna addressed the room, sharing insights into how the game of college hockey has grown and its culture has changed. Bertagna spoke of how the leaders of college hockey today need to stay true to educational values and be wary of becoming too much part of the entertainment business.
The Legends recognized the Nashua Royals senior amateur team who began play in 1948 and In 1952, the Royals beat the Rye Seahawks for the New Hampshire Amateur Class B title.  The Royals were instrumental in the success of the Granite State Hockey League.  In the 1960's, they were coached by Ron Peters, Hall of Fame '08.  The Royals played in three straight GSHL Championships, winning in the 1965-66 season over the Tam O'Shanters of Manchester.  The Royals concluded play after the 1966-67 season.  For more information of the Royals history read page 6 and 7 booklet, Click here to view Induction booklet.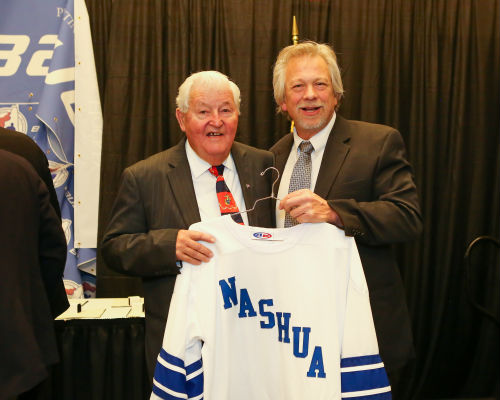 Former Royal standout George Marineau with Executive Director Jim Hayes 
The jerseys shown above were auctioned at the ceremony.  If you are interested in purchasing one, please email hayes743@comcast.net    Numbers available are 1, 4, 7, 9, 11, 15, 16 and two can be adorned with a number of your choice.  Each jersey is selling for $100.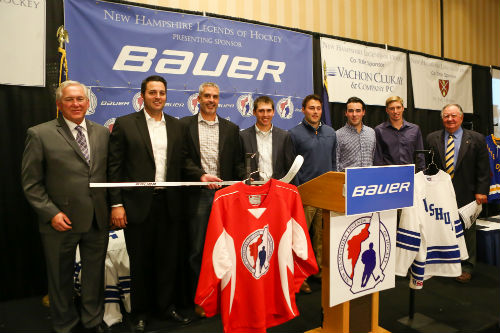 John Normand with Head Coach Steve McIsaac, Jerimey Braley, Blaine Cardali, Zach Bradanick, Dylan Palmer and Sean Leahy.
The Legends, and Bauer Hockey made a special presentation to the UNH Club Hockey team.  John Normand presented the Silver (Bauer) Stick with an inscription on the blade recognizing the 2013-14 UNH Club Hockey team winning the ACHA D 2 National Championship.  In winning the title, the Wildcats posted and overall record of 27-7-0.  Head Coach Steve McIsaac and several members of that team were in attendance.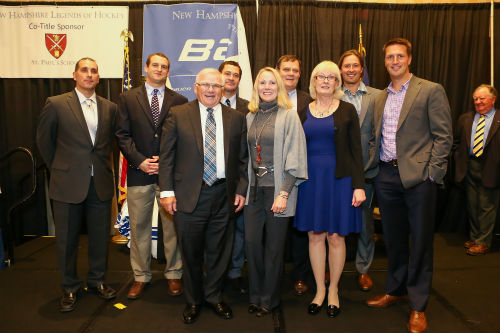 2015 Hall of Fame members:  CJ Ficek, Taylor Chace, Ron DeGregorio, Dan Houston, Paula Colgan Heath, Denny Houston, Elizabeth Colgan Knowland, Ryan Weston and Russ Bartlett.
Treasurer Jim Rivers recognized all current Hall of Fame members in attendance shown in photo below.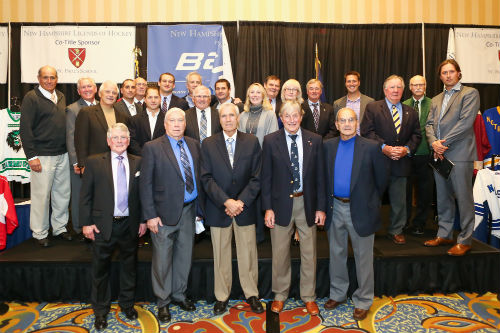 All Hall of Fame members in attendance:  Front Row L to R: Dick Boucher, Bruce Parker, Roland Lavigne, Ken McKinnon and Dick Roy. Second Row L to R: Jim Tufts, John Normand, Rene LeClerc, CJ Ficek, Merrill Fay, Brian Stone, Taylor Chace, Peter Maher, Ron DeGregorio, Dan Houston, Paula Colgan Heath, Denny Houston, Elizabeth Colgan Knowland, Bill Dennehy, Russ Bartlett, Bob Norton, Ryan Brandt, Ryan Weston.  Missing from photo: Pierre Belanger, Ken Cail, Bruce Crowder, Mark Evans, Steve Murphy, Andre Prefontaine, Jim Rivers, Brian Stone.
President John Normand announced the team that will be honored during the 2016 Hockey Hall of Fame Ceremony.
The Legends have selected a school that has both men's and women's teams.  Their men's program began play during the 1969 season for men and they've won more than 500 games since that first season.  since 2004 they have amassed a very impressive & successful history winning the Northeast 10 regular season title 8 times and NE-10 Championship 7 times.
This school has two individuals who have been inducted into our Hall of Fame.  The first was enshrined in 2004 and the second, in 2012.
The women's team has played Meanwhile the women's team has won more than 200 games in just eleven seasons with an amazing seven 20 win seasons and 6 Championships in the ECAC Open Division in 9 games.
Normand asked everyone to help him welcome next year's honored team, the St, Anselm College Hawks.  By the way those two Hall of Famers are Hubie McDonough and Kathleen Twomey.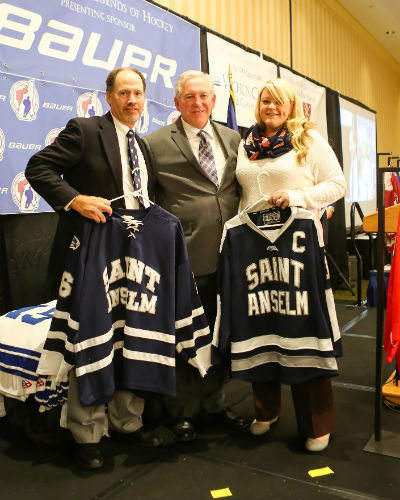 Shown below with John Normand is Ed Seney, Head Coach of the men's team along with Assistant Coach for the women's team, Karilyn Pilch.
2016 Induction Ceremony is slated for next October so please mark your calendar.
Next year, The Legends will honor the St. Anslem College Hawks.  Shown below is Ed Seney, Head Coach of the men's team along with Assistant Coach for the women's team, Karilyn Pilch.
2016 Induction Ceremony is slated for next October so please mark your calendar for our Fifteenth Annual Hall of Fame Induction Ceremony at the Grappone Conference Center in Concord.  If you'd like to become a sponsor for next October, please email hayes743@comcast.net or call Jim Hayes at 603-731-4168.
2016 Nominations can be submitted on-line beginning January 1 and continuing through the end of February.
Video of Today's Event can be purchased by contacting David Pearl at www.videonh.com or email info@videonh.com.  DVD's of the Induction Ceremony, as well as Interviews, may be purchased for $15.00 through Spotlight Video Productions, Hooksett, NH.
Photographs of Today's Event were taken by Matt Parker Photography and are posted on his website. Click here to view or purchase photographs.   If you have any questions contact Matt at mparker3011@gmail.com