Golf Classic
Our Annual Golf Classic began in 2006 and Stonebridge Country Club is the host to our tournament.
Each year, more than 100 golfers reunite to tell those stories of yesteryear when we were all great players.  Our tournament generally begins with a 10:00 shot-gun start and our field is limited to 132 – so please sign up early.
Thank you in advance for your support and we hope to see you there!
Pictured below are the 2019 Champions along with all the Legends Champions.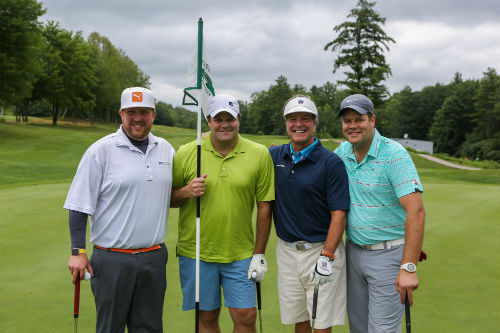 All Champions
2022 – Lee Blossom, Ryan Sahr, Mark Placy, Don Steenbeke Jr.
2021 – Bob Oziomek, Mark Bozek, George Chase and Tim Pratt
2019 – Lee Blossom, Ryan Sahr, Mark Placy and Don Steenbeke Jr.
2018 – Mike Desmond, Mike Bayer, Jason Bergeron and Scott O'Neil
2017 – Lee Blossom, JM Sahr, Ryan Sahr, Scott Towle
2016 – Lee Blossom, JM Sahr, Ryan Sahr, Mark Placy
2015 – Rene LeClerc, Pete Ackerson, Steve Grzywacz, Dave Kuhman
2014 – Todd Philbrick, Tom Otto, Jim Corbett, Jerry Collins
2013 – Dick Dodds, John Dodds, Scott Peters, Dean Cashman
2012 – Chris Chisholm, Jim Hayes, Ray Martin, Pat McNicholas
2011 – Casey Kesselring, Jeff Graham, Mike Beliveau, Trevor Smith
2010 – Chris Chisholm, Jim Hayes, Ray Martin, Pat McNicholas
2009 – Mike Castagna, Paul Lemire, Doug Leppart, Doug Snyder
2008 – Chris Chisholm, Jim Hayes, Ray Martin, TJ Whitelaw
2007 – Mike Castagna, Mike Ladouceur, Johnna Lory, Rich Tombs
2006 – Ken Roberge, Mike McGinn, Glen Williams, Dwayne Robinson