Five New Members Join the Hall
Master of Ceremonies, Bob Norton, and the New Hampshire Legends of Hockey Board of Directors inducted five new members into the New Hampshire Hockey Hall of Fame class of 2016, in front of a crowd of 250 family members, friends, dignitaries and guests.
The Legends also paid tribute to Men's and Women's team from Saint Anselm College. The Hall of Fame Induction Ceremony & Luncheon was held on October 23, 2016 at the Grappone Conference Center in Concord and marked the NH Legends' fifteenth year hosting the event.
Jeff Giuliano, Assistant Coach of the Manchester Monarchs, was one of five individuals inducted into the hall. "It was an honor to be inducted into the Hall of Fame," Giuliano said. "The New Hampshire Legends of Hockey is a great organization that should be commended for its efforts in preserving New Hampshire ice hockey history and really promoting the sport."
Also inducted into the 2016 Hall of Fame class were coaches: Rand Pecknold, Gary Bishop and John Dodds; and Dr. Richard R. Roy was inducted posthumously as a builder. Additionally, The Legends honored the Saint Anselm men's and women's hockey programs. To view the entire induction program click here.
About The Legends of New Hampshire Hockey
The Legends is a New Hampshire non-profit, 501(C)(3) organization dedicated to preserving New Hampshire ice hockey history, maintaining the state's Hockey Hall of Fame, and promoting the sport to New Hampshire's youth. Our Hall of Fame Induction event honors New Hampshire's hockey elite — men and women who have made significant contributions in New Hampshire as players, coaches, officials, builders, or media representatives.
John Normand, current President of the Legends' Board of Directors, welcomed the large audience and thanked them for supporting the 2016 Hall of Fame inductees and the Saint Anselm College men's and women's hockey programs. Normand offered special thanks to St. Paul's School – the Luncheon Sponsor, the Co-Title Sponsors, Amoskeag Beverages, LLC and Hawk Hockey of Saint Anslem College. In addition, he thanked long standing Social Hour Sponsor New Hampshire Distributors, LLC and the New Hampshire Amateur Hockey Association, this year's Inductee Ring Sponsor.
Normand also thanked the 30 other sponsors who helped make the Hall of Fame ceremony possible through their Gold, Silver, and Bronze-level sponsorships. Those sponsors are:
Gold Sponsors: Banks Chevrolet-Cadillac, Inc; Beauchamp Estate Services; Black Ice Pond Hockey Association; Christian Party Rental; Club National; Di Niro Construction; Family Dentistry of Milford; Fay's Boat Yard; The Kraft Group; Rene LeClerc Insurance Agency; Speedy Printing & Copying and Vachon Clukay & Company PC.
Silver Sponsors: Bogacz Photography/Digital Media; Brine & Capital Sporting Goods; Capital City Paving; Law Offices of Roland E. Olivier; Milestone Engineering & Construction; Morgan Storage; Northway Bank; PretiFlaherty; Triplet Computers and TSR Hockey.
Bronze Sponsors: API of NH; Central Paper Products Co.; EVR Advertising; Granite State Glass; Label Tech, Inc.; L.A. Brochu, Inc; Legacy Financial Solutions and Town and Country Motor Inn.
State Senator Lou D'Alessandro, longtime Legends supporter and a former Legends Board member, delivered a letter from The Honorable Governor Maggie Hassan, State Senate Resolutions and State of New Hampshire Citations honoring the Hall of Fame Class of 201 and the Saint Anselm College hockey teams.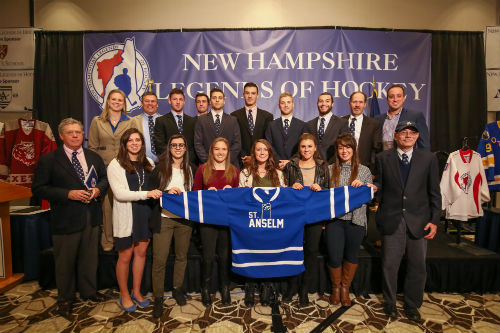 Current and former members of the Saint Anselm College hockey teams Front Row L to R: Dick Burke; Meghan Spurling; Alex Starzyk; Alison Butler; Alison Quinn; Martha Findley; Jackie Guy and Gary Smith. Back Row L to R: Kerstin Matthews; Larry Roche; Nick Leonard; Lonnie Taylor; Vin D'Amato; Peter Sikalis; Brendon Kerrigan; CJ Blaszka; Ed Seney and Ryan NolinThe jerseys shown above were auctioned at the ceremony. If you are interested in purchasing one, please email hayes743@comcast.net Currently, nine jerseys are available, and can be adorned with a number of your choice and nameplate. Each jersey can be purchased for $100.00.
Photographs of Induction Ceremony were taken by Matt Parker Photography and are posted on his website. Click here to view and or purchase photographs. If you have any questions you may contact Matt at mparker3011@gmail.com. To view and or purchase click here.
Concord Mayor, Jim Bouley, extended a welcome on behalf of the Capital City and briefly traced the history of ice hockey in the City of Concord, from the first hockey game played in 1883 at St. Paul's School to the more recent Black Ice Pond Hockey Championship at White Park. Bouley remarked that the Black Ice event will be held at Concord's White Park again this year in late January.
The Key Note Speaker was Jeff Eisenberg. Jeff was the Monarchs first President and told his story of the road he traveled to get from Tennessee to Manchester (a place he still calls home – since 2001) and how the Legends of Hockey came to be.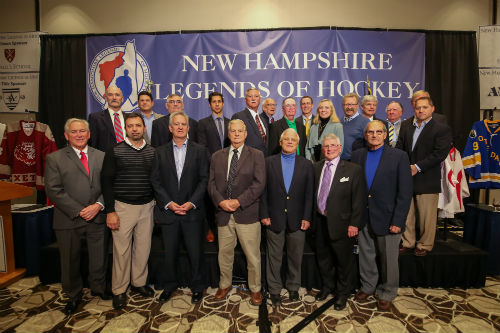 All Hall of Fame members in attendance: Front Row L to R: John Normand; Jacques Rodrigue; Peter Maher; Dick Theriault; Rene LeClerc; Dick Boucher and Dick Roy. Back Row L to R: Pierre Belanger; Jeff Eisenberg; Gary Bishop; Jeff Giuliano; Dan Roy; Merrill Fay; Steve Murphy; Rand Pecknold; Paula Colgan Heath; Leo Gould; John Dodds; Bob Norton Brian Stone and Dick Dodds. Missing from photo, Ken Cail and Mark Evans.President John Normand announced the team that will be honored during the 2017 Hockey Hall of Fame Ceremony.
The New England College men's and Women's programs will be honored at the 16th Hall of Fame Induction Ceremony.
John recognized Past-President Gregg Moffett for his Outstanding Leadership and Service as President from 2013-2015.
Next year's Induction Ceremony is tentatively slated for next October 22nd, so please mark your calendar for our Sixteenth Annual Hall of Fame Induction Ceremony at the Grappone Conference Center in Concord. If you'd like to become a sponsor, please email hayes743@comcast.net or call Jim Hayes at 603-731-4168.
2017 Nominations can be submitted on-line beginning January 1 and continuing through the end of February.
Video of Induction Ceremony can be purchased by contacting Mark Johnson at MJohnson@JoyMark.com. A DVD set of the Induction Ceremony as well as Interviews may be purchased for $15.00 through JoyMark Photography and Video Production in Concord (www.JoyMark.com).