12th Annual Golf Classic Another Big Hit
Thank you to everyone that supported our Twelfth Annual Golf Classic, presented by Bauer. Our event was held July 14 at the Stonebridge Country Club in Goffstown. 

Our event was kicked off with a message from John Normand, President of the New Hampshire Legends of Hockey (Legends). He gave special thanks and recognition to our Presenting Sponsor, Bauer (Global Headquarters) of Exeter, NH, our Title Sponsor, The Rinks at Exeter, our perennial Gold Sponsor, St. Paul's School of Concord as well as Co-Title Putting Sponsors, Club National and Charles Schwab, both of Nashua.
"We are extremely grateful to all the players, sponsors, contributors (gifts in kind) and volunteers that help make this event one of the best in the state, each and every year".
For perhaps the first time in twelve years, it was cooler, but that meant comfortable weather to spend time with our hockey family and friends. Again, we enjoyed another near-capacity field and with generous contributions this year's Golf Classic was again one our most successful events.
More than 500 photos from Matt Parker Photography can be viewed and or purchased for a nominal fee.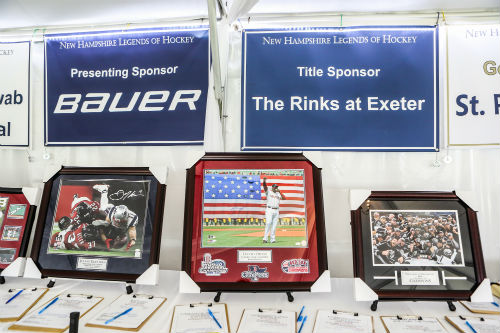 Listed below are our eleven Silver and nineteen Bronze Sponsors.
Silver Sponsors: Amoskeag Beverages, LLC – Bogacz Photography/Digital Media -Gamache Enterprises – Granite State Capital – Morgan Self Storage – New Hampshire Distributors, LLC – North Country Tractor – PretiFlaherty – Pro Ambitions – Rowley Insurance Agency – Triplet Computers, LLC
Bronze Sponsors: Ackerson State Farm Insurance Agency – Arcomm Communications – Banks Chevrolet-Cadillac-Buick-GMC – Beauchamp Estate Services – Capital City Paving – Christian Party Rental – Deco Limo of Boston – EVR Advertising – Fay's Boat Yard – The Houston Family – Karr & Boucher PLLC – L. A. Brochu Inc. – Manchester 40+ Hockey League – Milford Lumber – Northway Bank – R & T Electric Inc. – Rene LeClerc Insurance Agency Inc. – Sleepnet – The Voice Library.net
Nearly 100 businesses and individuals donated gifts in kind for the tournament. To view complete list, click on Contributors (Gifts in Kind)
In addition, John acknowledged two names from the Class of 2017 who will be inducted October 22 at Concord's Grappone Center at the Sixteenth Annual Legends of Hockey Induction Ceremony. With us today is Roger Letourneau who played for Berlin High School, the Berlin Maroons, the Concord Eastern Olympics and the Concord Budmen. In addition, Mark Thurston entered a foursome, his grandfather George "Fuzzy" Thurston was from Exeter and was a standout player for the Amesbury Maples senior team for decades, playing his last game in 1969 at the age of 66 for the Amesbury Alumni. He was invited to be part of a "Boston Olympic Team" that traveled to Europe in 1932 for a two-month hockey tour that saw them win 23 of 24 games against national teams across the continent.
The Legends will also pay tribute to the New England College men's and women's hockey programs.
Volunteers
Our volunteers worked very hard all-day long keeping the registration, raffle and on course contests running smoothly. Many thanks again: to Dave Beauchamp; Morgan Beauchamp; Dick Boucher; Monique Chauvette; Dave Elliott; Sarah Gilcoine; Jay High; Tom Mailhot; Aidan McKenzie; John McKenzie; Cory Philbrick; Wally Tafe; Dick Theriault; Bob Vachon and Kathy Vachon. In addition the following board members got a chance to play, but also volunteered many hours to help make this event a great success. Dave Corriveau; Jim Hayes; Lane Mabbett; Roland Martin; John Normand; Steve Mathieu and Dan Zapton.
Champions!
Congratulations to this year's Champions. This year Lee Blossom, Ryan Sahr, JM Sahr and Scott Towle took home the title. They shot a 59 and bested the team of Greg McClary, Caleb Drouin, Ty Jordan and Colby Jordan on a match of cards.
All Champions
2017 – Lee Blossom, Ryan Sahr, JM Sahr, Scott Towle
2016 – Lee Blossom, Mark Placy, Ryan Sahr, JM Sahr
2015 – Rene LeClerc, Pete Ackerson, Steve Grzywacz, Dave Kuhman
2014 – Todd Philbrick, Tom Otto, Jim Corbett, Jerry Collins
2013 – Dick Dodds, John Dodds, Scott Peters, Dean Cashman
2012 – Chris Chisholm, Jim Hayes, Ray Martin, Pat McNicholas
2011 – Casey Kesselring, Jeff Graham, Mike Beliveau, Trevor Smith
2010 – Chris Chisholm, Jim Hayes, Ray Martin, Pat McNicholas
2009 – Mike Castagna, Paul Lemire, Doug Leppart, Doug Snyder
2008 – Chris Chisholm, Jim Hayes, Ray Martin, TJ Whitelaw
2007 – Mike Castagna, Mike Ladouceur, Johnna Lory, Rich Tombs
2006 – Ken Roberge, Mike McGinn, Glen Williams, Dwayne Robinson
On Course Contests
Longest Drive All # 2 – Brian Gould
Closest to the Line #1 – Mark Bozek
Closest to the Pin # 4 – Scott Citroni 0′.0″
Closest to the Pin # 6 – Ray Phelan 2'1″
Closest to the Pin # 13 – Lee Blossom 5'3″
Closest to the Pin # 16 – Bob Tappan 1'7″
Closest to the Pin #18 Second Shot – JM Sahr 9'6″
Putting Contest Champion – Lane Mabbett *
* In a putt-off against Scott Richard, Ken Collins and Mike Bayer – thus Lane was crowned Champion and took home $100 cash.
2017 Golf Date
Next year's Golf Classic is scheduled for Friday July, 13, 2018, so please mark your 2018 calendar, grab your players plan on joining us!
2017 Golf Photos
More than 500 terrific photographs were taken by Matt Parker Photography and are available to view and or purchase. Click here to view. If you have any questions contact Matt at mparker3011@gmail.com
2017 Induction Ceremony
NH Legends of Hockey Hall of Fame Induction Ceremony and Luncheon, honoring players, coaches, builders, and media representatives for their outstanding achievements and significant contributions to the sport of ice hockey in New Hampshire. If you'd like to join us and or sponsor this premier event, please contact Jim Hayes at hayes743@comcast.net
We also collect and display hockey-related artifacts in our on-line Museum of New Hampshire Hockey and we support the growth of the sport through various activities, including our youth hockey equipment donation program and our sponsorship and support of the NH High School Senior All-Star hockey games as well as All-State recognition for both New Hampshire high school and prep school teams.
We continue to search for artifacts and film from the old days. Anyone wishing to loan or donate artifacts is welcomed to do so.
Thank you in advance.